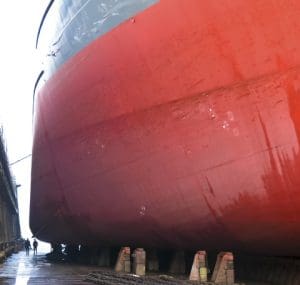 ANTWERP, Belgium, April 22, 2014 – Reykjavik based Vélar og Skip EHF. known for their service and engineering of ship propulsion equipment, has secured the Icelandic agency for the underwater hull coating Ecospeed and cavitation/corrosion barrier Ecoshield.
"We are very excited about our new partnership with Vélar og Skip, " stated Boud van Rompay, CEO of Hydrex. "Vélar og Skip has been in the marine business for many decades and has a strong customer base to showcases the features and benefits the Hydrex Group has to offer. The expansion of our agent network in the areas where ice-going ships are owned and operated is taking place according to plan."
Iceland is a fishing nation and has created one of the most modern and competitive seafood industries in the world, based on sustainable harvesting and protection of the marine ecosystem. With Ecospeed, Hydrex offers shipowners a long-lasting and environmentally safe non-toxic underwater hull coating with a 10-year guarantee even when sailing in ice.
Vélar og Skip offers the connection to the fishing fleet and cargo fleet which operates to a large extent in icy waters.
In addition to Ecospeed and Ecoshield, Hydrex Group offers turnkey underwater repair and maintenance solutions to ship owners wherever and whenever they are needed, enabling vessels to stay in class and in business without the need for frequent drydocking.
Ecospeed and Ecoshield are produced, distributed and supported by Subsea Industries, a subsidiary of Hydrex NV, based in Antwerp, a global provider of turnkey underwater repair and maintenance solutions and technology.
Ecoshield, breakthrough cavitation and corrosion proofing for hulls, rudders and underwater running gear, very recently received the Seatrade 2014 Innovation in Ship Operations Award after facing tough competition and the scrutiny of highly qualified, experienced and respected judges.
"Jo"