Merseyside's maritime sector has thrown open its doors to welcome the international shipping sector as the Maritime, Logistics & Energy thematic of the International Festival for Business begins this week.
Speaking on board the three-masted Tall Ship Kathleen and May, berthed in Albert Dock on the historic Liverpool waterfront, Jim Teasdale, Chief Executive of Mersey Maritime, welcomed the thousands of shipping industry guests attending the fortnight's 48 events.
He said: "The maritime sector on Merseyside is strong. Our collective success has been based on wealth and job creation with a strong focus on marketing and business development. Today, more than ever, our strength comes from collaboration – together we are stronger."
Highlighting Liverpool's international role as a mercantile, maritime city and key global gateway, Mr Teasdale pointed out that the Maritime Sector on Merseyside:
·        has key sub-sectors which include shipping; ports; marine engineering; maritime professional services; distribution & logistics

·        Consists of 1, 700 companies which employ 28, 000 people with a turnover of c£2.5b
·        And is making a positive contribution to key transformational economic projects such as Liverpool SuperPort; the Low Carbon Economy; the Knowledge Economy and the Visitor Economy.
Includes major shipping companies such as: Atlantic Container Line (ACL), CMA CGM, CSAV Agencies, Independent Container Line (ICL), Maersk NYK and Zim
Has port operations on the River Mersey which include the Port of Liverpool and the Twelve Quays terminal in Birkenhead, both operated by Peel Ports; the Port of Garston, operated by Associated British Ports and Victoria Group's Mersey Wharf in Bromborough
Includes the Bibby Group, whose global headquarters are in Liverpool city centre, from which worldwide activity in shipping, offshore services, distribution & logistics, finance and other businesses are coordinated
Has major marine engineering activity – most of which is based at the Cammell Laird shipyard in Birkenhead. The yard is currently undertaking key shipbuilding, ship conversion and ship repair contracts, with plans to diversify into a broader spectrum of marine engineering and support services, including those related to nuclear and wind energy
Is home to some of the largest and most successful UK Maritime Services companies, which include those dealing with communications, marine law, marine finance, marine insurance, ship management and ship and cargo surveying
Has two cruise liner terminals, the most recently built facility being located at the heart of the city's tourism centre
Has a key multi-modal transport and distribution hub, known as 3MG at Halton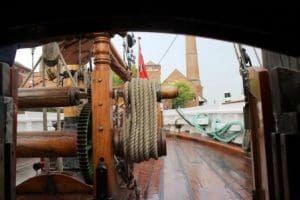 MLE
The Maritime, Logistics & Energy thematic is organised jointly by Mersey Maritime and Shipping Innovation, organiser of last year's highly successful London International Shipping Week (LISW).
Mersey Maritime Limited
Mersey Maritime is the private-public sector partnership that represents the interests of the shipping, ports and logistics sector on Merseyside, including improvements to the movement of freight across the region. It represents the interests of a cluster of 1700 businesses employing 28, 000 people, with a combined turnover of £2.6bn. The organisation receives funding via the European Regional Development Fund (see below), matched by private sector income raised through membership, events and consultancy services.
Maritime Sector Development Programme
The programme is open to Merseyside-based SMEs. These are defined as businesses with a registered office address in Liverpool, Sefton, St Helens, Wirral or Knowsley (some postcodes excepted). They must engage in economic activity, being self-employed persons, family businesses, partnerships or associations. They must employ fewer than 250 staff and have an annual turnover not exceeding EUR 50m, or an annual balance sheet total not exceeding EUR 43m.
SMEs may qualify for assistance from the programme if they operate in the following sub-sectors: Building, repair and maintenance of ships or boats; Business services; Cargo handling; Defence; Education, training and skills; Engineering and fabrication services; Leisure and Recreation; Navigation and safety; Offshore and underwater services; Oil and gas; Port operations, Professional maritime services; Renewable energy; Research and development; Ship management; Shipping, freight and forwarding agents; Storage and warehousing; Transport by land, air or sea; Wholesale distribution and other specialist maritime sectors.
The European Regional Development Fund
The European Regional Development Fund (ERDF) is making a real difference to people and businesses in the North West. The Current ERDF programme, which is worth €755 million, is enhancing the competitiveness of the region's economy by supporting growth in enterprise and employment. ERDF is managed by the Department for Communities and Local Government. ERDF's Maritime Sector Development Programme has been extended to 2015. It aims to support productivity, business growth and job creation among small to medium sized enterprises on Merseyside, helping to enhance the competitiveness of the sub-region both nationally and internationally. For further information please visit https://www.gov.uk/browse/business/funding-debt/european-regional-development-funding