Thursday 24 July 2014 – The ISAF Youth Match Racing World Championship on water action matched the warm climate as the competition heated up on the second day in Helsinki, Finland.
Temperatures in Helsinki reached a new summer high but that not did stop the on-water action with 12 more flights completed. The situation is incredibly tight ahead of the last ten flights.
The day commenced at 09:45 local time with one flight in a dying breeze. As the wind filled in, racing resumed at 11:45 with a 10-11 knot breeze ensuring fair racing across the remaining flights.
Joachim Aschenbrenner (DEN) is sitting with level with Sam Gilmour (AUS) on 8-2 at the top, matching each other blow for blow. Overnight leader Nevin Snow (USA) sits on eight points but counts three losses.
The trio are followed by Mark Lees (GBR) at 7-2 and Valerio Galati (ITA), Pierre Quiroga (FRA) and Chris Steele (NZL) on 7-3.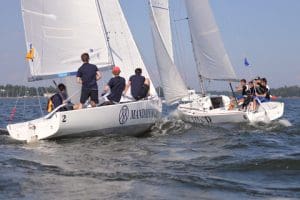 One notable thing about the regatta thus far is the comments from the Umpires and Race Committee about the behaviour of the young sailors. Cool, calm and composed heads ensures that match racing is truly a gentleman's sport in the youth division.
The racing continues on Friday at 09:30 local time. The forecast is for similar conditions with a lot of sun and heat, but luckily also some wind.
2014 ISAF Youth Match Racing World Championship Results:
Joachim Aschenbrenner, DEN 8-2
Sam Gilmour, AUS 8-2
Nevin Snow, USA 8-3
Mark Lees, GBR 7-2
Valerio Galati, ITA 7-3
Pierre Quiroga, FRA 7-3
Chris Steele, NZL 7-3
Nelson Mettraux, SUI 5-5
Tyler Rice, ISV 5-6
Markus Ronnberg, FIN 4-5
Philip Bendon, IRL 4-6
Jakob Klitte, SWE 3-7
Slawomir Plichta, POL 1-8
Florian Haufe, GER 1-9
Vladislav Abramov, RUS 0-11
About
The ISAF Youth Match Racing World Championship joined the ISAF family of events at the 2012 ISAF Annual Conference in Dun Laoghaire, Ireland.
The Championship will bring together the best youth match racers from around the world acknowledging their skills and offering a pathway to senior match racing competition.
Helsinki, Finland was selected to host the inaugural event from 23-27 July 2014.
Swinoujscie, Poland will hold the 2015 edition of the event.