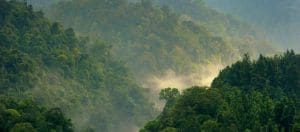 Forests in a Changing Climate: A Sourcebook for Integrating REDD+ into Academic Programmes 
Nairobi, 20 August 2014 – While significant efforts are underway to better understand the role that forests play in climate change, the field of study remains relatively new. This is especially true when considering the complex policy, governance and technical requirements associated with managing climate change mitigation services provided by forests.
Reducing Emissions from Deforestation and forest Degradation while promoting conservation, sustainable management of forests and enhancing forest carbon stocks (REDD+) provides an international framework for action.
In this context, the United Nations Environment Programme (UNEP) and the UN-REDD Programme together with the Yale School of Forestry & Environmental Studies have developed a pedagogical guide for REDD+ aimed at university professors and graduate students. The guide may also be useful to a broader audience interested in building capacity, knowledge and awareness on REDD+ and related issues.
Forests in a Changing Climate: A Sourcebook for Integrating REDD+ into Academic Programmes is a comprehensive syllabus for the academic study of REDD+, designed to facilitate the integration of REDD+ concepts and approaches into a multidisciplinary university programme. The Sourcebook identifies relevant information, tools and experience within the UN-REDD Programme, and seeks to engage universities as strategic partners in REDD+ education, research and outreach.
The Sourcebook is divided into 12 modules introducing the REDD+ context and the links between forest carbon and climate change, the REDD+ approach and REDD+ readiness process, and technical aspects of REDD+ such as safeguards and measurement, reporting and verification (MRV) of forest carbon. Together the modules provide background information, case studies, and key questions for discussion along with reference material and tools and methodologies. These can be used to develop university courses, produce lectures, formulate class discussions, and draft assignments and tests.
The Sourcebook will also be a valuable resource for the members of UNEP's Global Universities Partnership on Environment and Sustainability (GUPES), a partnership of over 430 universities worldwide.
Building sufficient capacity for REDD+, including research capacity to address gaps and challenges, will be essential if REDD+ is to achieve mitigation, protect forests, and achieve vital social and environmental objectives, including the Sustainable Development Goals.
The Sourcebook is, in part, a stocktaking of knowledge and initiatives, including ongoing work under the UN-REDD programme. In presenting the breadth of knowledge on REDD+, the Sourcebook seeks to facilitate the integration of REDD+ into higher education around the world in order to build a more sustainable future.
Quotes:
"While it is clear that REDD+ is an opportunity to build links between forests and climate change mitigation, achieving success will require contributions from researchers, scholars and students around the world. We have to invest now in building REDD+ expertise through tools such as the Sourcebook for integrating REDD+ into academic programmes." – Achim Steiner, UN Under-Secretary-General and Executive Director, UNEP
"Tackling the issues of climate change requires a wide array of expertise and innovative ideas as well as an understanding of both the policy elements and the scientific facts related to the most challenging phenomenon of our time". – Mette L. Wilkie, Director, Division of Environmental Policy Implementation, UNEP
To download the report, please click here:

About UNEP
Created in 1972, UNEP's mission is to provide leadership and encourage partnership in caring for the environment by inspiring, informing, and enabling nations and peoples to improve their quality of life without compromising that of future generations. Visit: h www.unep.org
About the UN-REDD Programme
Launched in 2008, the UN-REDD Programme is the United Nations collaborative initiative on Reducing Emissions from Deforestation and forest Degradation (REDD) in developing countries. It builds on the convening role and technical expertise of the Food and Agriculture Organization of the United Nations (FAO), the United Nations Development Programme (UNDP) and the United Nations Environment Programme (UNEP). The Programme supports national REDD+ readiness efforts in 53 partner countries, spanning Africa, Asia-Pacific and Latin America. Visit: www.un-redd.org
About GUPES
The Global Universities Partnership on Environment and Sustainability (GUPES) is UNEP's Environmental Education and Training Unit flagship programme. Launched in June 2012 in the lead up to Rio+20 and the joint UN Higher Education Sustainability Initiative (HESI), the goal of GUPES is to increase the mainstreaming of environment and sustainability practices and curricula into universities by supporting innovative approaches to education. This is in accordance with the UN Decade of Education for Sustainable Development, and carried out in partnership with UNESCO, UNU and several partners. At present, there are over 430 universities affiliated with the GUPES network, which continue to grow rapidly.
– See more at: http://www.unep.org/newscentre/Default.aspx?DocumentID=2797&ArticleID=10959&l=en#sthash.CBeRyZ8J.dpuf