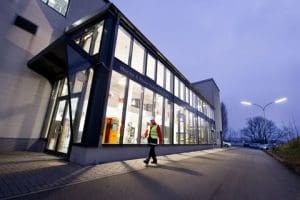 Shell Marine Products (SMP) is celebrating the 10th anniversary of its Marine & Power Innovation Centre (MPIC) in Hamburg, Germany, marking a decade of its innovative approach in developing lubricant technology for the marine industry.
Established in 2004 within Shell Technology Centre Hamburg, the centre has been pivotal in SMP's ability to meet the fast-changing demands placed on cylinder oil performance in today's maritime landscape. Its team of scientists and engineers are constantly using insights from Shell's legacy of almost six decades of marine lubricant development, from the first successful alkaline cylinder oil – Shell Alexia A in 1955 to Shell Alexia S5 and S6, introduced in late 2013.
"It is fitting that our 10th anniversary coincides with the SMM maritime fair here in Hamburg, " said Jerry Hammett, General Manager for Marine & Power Engine Oil Technology. "Here in the Centre we can put promising formulations through their paces before field trials and OEM validation tests. Our testing takes
into account extreme conditions and involves rigorous attention to the control of our test engines, to ensure that the only test variable is the lubricant itself."
MPIC runs four test engines, covering 2-stroke and 4-stroke applications running on both residual and distillate fuel. The facility works closely with OEMs and employs experienced technicians and engineers who are Coordinating Research Council (CRC)-accredited to ensure that each test run can be properly evaluated
and compared with all previous and future test runs for any particular lubricant.
"If engine developments have been rapid in recent years, there are more developments to come, " adds Jerry, "MPIC will continue to be critical to sustaining our close relations with OEMs, as well as offering robust and reliable data to support our products, the performance claims we make and the services we offer. Responsible suppliers embrace change, and the Centre represents SMP's commitment to invest in its technology and the support that addresses the challenges faced by shipping as a whole."
ABOUT SHELL TECHNOLOGY CENTRE HAMBURG
Shell Technology Centre Hamburg is Shell's global centre of expertise for research and development in automotive, industrial and domestic fuels, lubricants and greases, engine gearbox and vehicle technology, and marine technologies. It is now part of Shell's 14, 000-strong Projects & Technology organisation whose remit includes driving research and innovation to develop new technologies, and providing technical services and technology capability in both downstream and
upstream activities. Since the centre's opening in the Harburg suburb of Hamburg in 1956, engineers, scientists and researchers have helped to pioneer and develop Shell's portfolio of differentiated fuel and lubricant products and provide technical services to both develop new and
improve existing products.
The Shell Marine and Power Innovation Centre (MPIC) was established in 2004 with a team of experienced scientists and engineers dedicated to the marine and power engine sector, using state-of-the-art equipment, including four laboratory engines, to develop and test products designed to meet customers' current and future needs. Product research and development is conducted both on site, where ambient conditions like extreme changes in air temperature and humidity can be simulated, and also onboard seagoing vessels with field trials key to the successful development of modern diesel engine and cylinder oils.
ABOUT SHELL MARINE PRODUCTS
Shell provides lubricants for the marine industry through its Shell Marine Products business. It serves over 10, 000 vessels, ranging from large ocean-going tankers to small fishing boats in 510 ports across 40 countries. The advice and technical services we provide help our customers achieve maximum value from using our lubricant products across all types of machinery and equipment on a ship.
"Jo"