A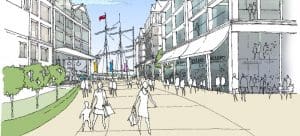 BP Marine Environmental Research Ltd (ABPmer), a leading UK marine consultancy, has been commissioned to prepare various technical reports to support the environmental statements for the proposed regeneration of the Royal Pier Waterfront in Southampton.
This follows the announcement in February that the joint venture company, RPW (Southampton) Limited, owned by Morgan Sindall Investments Limited and funders Lucent Group, had signed a development agreement that will transform the landscape of Southampton's waterfront.
ABPmer will be working with Terence O'Rourke to complete the related environmental statements for the £400m development.  The current programme assumes planning applications will be submitted in 2015 and works will start in 2016.
Stephen Hull, ABPmer Technical Director said: "We are delighted to be part of the delivery team for this exciting waterside development.  We bring to the project not only our in depth experience and knowledge of Southampton water's natural and physical environment but also our understanding of the key issues for marine stakeholders."
ABPmer is a recognised specialist in coastal and marine processes and enjoys a wealth of EIA experience. The company has a strong track record contributing to and leading numerous regional and project level EIAs in the UK and overseas.
ABPmer is a wholly owned subsidiary of Associated British Ports Holdings Limited.