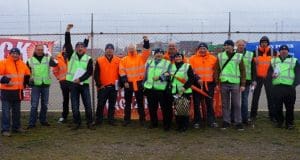 Thousands of union officials and activists used ITF Action Week (6-12 October) to highlight a host of major issues affecting transport workers, by talking to workers and passengers at bus and railway stations, handing out leaflets to truck drivers and dockers, holding seminars, organising press conferences and protests, and utilising social media.
17/10/2014 Many unions focused on container safety along the transport supply chain to mark the start of a four-year, cross-sectional ITF campaign. Members of FNV Bondgenoten in the Netherlands and STL in Romania handed out 5, 000 leaflets to truck drivers and dockers in the Port of Rotterdam; while the Port Workers' Union of Philippines organised a dock workers' march at the Port of Manila to target truck drivers and truck companies. The Egyptian General Seafarers' Union organised a workshop on safety measures during loading and unloading containers on board vessels.
Others targeted Uber, the multinational taxi app company. In India, senior officials from the Southern Railway Mazdoor Union and the All India Railwaymen's Federation brought together the taxi workers of central railway stations to protest, while in the US dozens of members of the Taxi Workers' Alliance of Pennsylvania parked their vehicles in rows three-deep around Philadelphia City Hall.
Over 120 European rail union representatives joined the ETF and ITF in a demonstration in Luxembourg to demand the rejection of the European Commission's proposals on the 'market' pillar of the 4th Railway Package, particularly its proposals for privatising national rail passenger services.
ITF inland transport secretary Mac Urata commented: "These actions demonstrate to the public, governments and regulators how necessary and valuable transport unions are, and are evidence of the battles we fight day in, day out for workers' rights, pay and conditions."
A packed week of activity by the ATM in Mexico included talking to freight drivers at the Mexico City supply centre and taxi and minibus operators at the central bus station about the right to form a union, excessive working hours, road safety and HIV/AIDS.
In Bulgaria, the FTTUB signed a memorandum of cooperation with the vice mayor of Sofia, responsible for transport, and the CEOs of the urban public transport municipal companies, members of the UITP, on the implementation of the ITF/UITP memorandum of understanding of December 2013. This aims to promote public transport and public investment in transport and infrastructure and provide quality training for all transport employees.
Senior government and public officials from Bittou on the Burkina Faso-Togo border attended a West Africa sub-regional event there, along with road and rail union delegations and drivers and apprentices from Burkina Faso, Ghana, Côte d'Ivoire and Togo. ITF representatives spoke of the need to strengthen union solidarity on the corridors, through the use of the International Drivers' Cards.
Read about these activities and many more during the Action Week and take a look at images of the events.