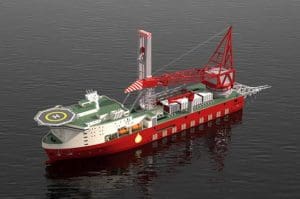 Proven NOx-reduction system to accompany earlier order for MAN four-stroke engines aboard deepwater vessel
MAN Diesel & Turbo has won the contract to provide a Selective Catalytic Reduction (SCR) system for each of 6 × MAN 16V32/44CR engines. The engines will power the 'Petrofac JDS 6000' deepwater derrick-lay vessel ordered in January 2014 by Petrofac, the international oil and gas services provider. At the time, Yves Inbona, Managing Director of Petrofac's Offshore Capital Projects business, said: "We are delighted to be working with industry leaders on the design and build of the key components of the vessel."
The SCR systems and engines will be constructed at MAN Diesel & Turbo's Augsburg, Germany facility, while the vessel will be constructed by the ZPMC yard in China using a proprietary Petrofac design. MAN Diesel & Turbo and Petrofac have also entered a 12-year service contract for the management, maintenance and monitoring of the 6 engines. Vessel delivery is scheduled for
2016 with the vessel expected to be available for offshore construction and installation activities from early 2017.
MAN Diesel & Turbo reports that its advanced technology and after-sales experience, as well as the lower running costs for the engines and their higher power per cylinder, were important factors in winning the contract.
The deepwater vessel will provide Petrofac with access to high-end, turnkey opportunities in the high-growth deepwater and SURF (Subsea Umbilicals, Risers and Flowlines) markets, while also expanding access to shallow-water EPCI (Engineering, Procurement, Construction and Installation) projects.
The SCR technique
Selective Catalytic Reduction injects urea into exhaust gases and passes them through a catalytic converter at temperatures of 300 to 400° Celsius. The subsequent, chemical reaction reduces undesired nitrogen oxides (NOx) by over 80%. The SCR system in its entirety consists of a catalytic converter with several control units and a surveillance-and-control unit.
In September 2014, the DNV-GL classification society awarded MAN Diesel & Turbo a Tier III-compatibility certificate for its MAN 8L21/31 four-stroke engine aboard a DFDS Seaways ship with a retrofitted SCR system; the 'Petunia Seaways' is a cargo ship that sails a regular North Sea route. While the engine alone meets IMO Tier II emission criteria, the SCR system for NOx reduction raises the whole system to the standard demanded by IMO Tier III rules.
Proven technology
MAN Diesel & Turbo is the first company to successfully make four-stroke marine engines IMO Tier III-compliant, based on a fully modular SCR-kit that covers the entire MAN Diesel & Turbo four-stroke engine portfolio. "For the last 8, 800 hours, this particular engine aboard the Petunia Seaways has consistently met Tier III NOx limits under real-life operating conditions and in full accordance with the rules, " said Dr. Daniel Struckmeier, Senior Project Manager Emission 2016, MAN Diesel & Turbo when DNV-GL presented the Tier III certificate in September.
Generally, MAN Diesel & Turbo reports that results from the test bed and open sea have been impressive and show that SCR technology is reliable and ready for commercial production and operation. Accordingly, it has already made the basic version of the SCR system available for every four-stroke engine in its extensive portfolio.
Petrofac JDS 6000 – Particular Data
Length (m)
215.9
Breadth (m)
49.0
Depth to main deck (moulded (m))
22.4
Ocean transit speed (kn)
12.0
Main generator sets/power (kW)
6 × MAN 16V32/44CR / 9, 600
About Petrofac
Petrofac is a leading international service provider to the oil and gas production and processing industry, with a diverse customer portfolio including many of the world's leading integrated, independent and national oil and gas companies. Petrofac is quoted on the London Stock Exchange (symbol: PFC).
Petrofac designs and builds oil and gas facilities; operates, maintains and manages facilities and trains personnel; enhances production; and, where it can leverage its service capability, develops and co-invests in upstream and infrastructure projects. Petrofac's range of services meets its customers' needs across the full life cycle of oil and gas assets.
With more than 18, 000 employees, Petrofac operates out of seven strategically located operational centres, in Aberdeen, Sharjah, Abu Dhabi, Woking, Chennai, Mumbai and Kuala Lumpur and has a further 24 offices worldwide.
www.petrofac.com
About MAN Diesel & Turbo
MAN Diesel & Turbo SE, based in Augsburg, Germany, is the world's leading provider of large-bore diesel engines and turbomachinery for marine and stationary applications. It designs two-stroke and four-stroke engines that are manufactured both by the company and by its licensees. The engines have power outputs ranging from 450 kW to 87 MW. MAN Diesel & Turbo also designs and manufactures gas turbines of up to 50 MW, steam turbines of up to 150 MW and compressors with volume flows of up to 1.5 million m³/h and pressures of up to 1, 000 bar. The product range is rounded off by turbochargers, propellers, gas engines and chemical reactors. MAN Diesel & Turbo's range of goods includes complete marine propulsion systems, turbomachinery units for the oil & gas as well as the process industries and complete power plant solutions. Customers receive worldwide after-sales services marketed under the MAN PrimeServ brand. The company employs around 14, 500 staff at more than 100 international sites, primarily in Germany, Denmark, France, Switzerland, the Czech Republic, India and China. MAN Diesel & Turbo is a company in the Power Engineering business area of MAN SE.
 "Jo"