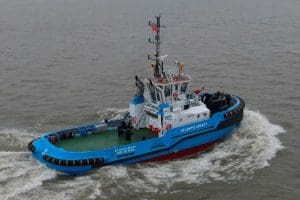 Two more Damen ASD 2810 tugs are on their way to ARC Towage in Trinidad & Tobago – the last of a four-vessel order. The MV Manatee and MV Atlantic Legacy departed Damen Shipyards Galati (Romania) on November 13 and are now bunkering in Las Palmas. From then on they will increase speed for a timely arrival in the port of Chaguaramas, Trinidad where they are due to start work on January 1.
All four tugs, which have a 60-tonne bollard pull and maximum speed of 12.9 knots, will have been delivered in under 18 months and this was one of the reasons ARC Towage chose Damen Shipyards Group for the new vessels.
The four sister ships have been adapted to comply with the latest international LNG handling regulations. They will provide towage, escorting, berthing and unberthing services for LNG carriers under a long-term contract for a leading energy company.
The vessels are equipped with 'rig savers' on all engines: remote shut-off valves, remote-closing air intakes, gas detection systems and explosion-proof lighting.
Damen Shipyards is also responsible for commissioning and the hand-over of the vessels.The first two (MV Kairi and MV Guapo Warrior) are already working and they are being used for crew training and familiarization purposes.
Damen will provide after sales support from its Service Hub in Curaçao. "This office is just a phone call and a one-hour flight away from Trinidad. We can provide any assistance they need for the lifetime of the vessel, " Reinier van Herel, added.
Damen Shipyards Group
Damen Shipyards Group operates 32 ship- and repair yards, employing 8, 000 people worldwide.Damen has delivered more than 5, 000 vessels in more than 100 countries and delivers approximately180 vessels annually to customers worldwide.Based on its unique, standardised ship design concept Damen is able to guarantee consistent quality.
Damen's focus on standardisation, modular construction and keeping vessels in stock leads to short delivery times, low 'total cost of ownership', high resale value and reliable performance.Furthermore, Damen vessels are based on thorough R&D and proven technology.
Damen offers a wide range of products, including:tugs, workboats, naval and patrol vessels, high-speed craft, cargo vessels, dredgers, vessels for the offshore industry, ferries, pontoons and super yachts.
For nearly all vessel types Damen offers a broad range of services, such as maintenance, spare parts delivery, training and transfer of (shipbuilding) know-how. Finally, Damen offers a variety of marine components, especially nozzles, (flap-type) rudders, steering gear, anchors, anchor chains and steel works.
Damen Shiprepair & Conversion
In addition to ship design and shipbuilding, Damen Shiprepair & Conversion offers a network of 16 repair and conversion yards worldwide, with dry docks ranging up to 420 x 80 metres.Conversion projects range from adapting vessels to meet today's requirements and regulations to the complete conversion of large offshore structures.DS&C handles 1, 500 repair and maintenance jobs annually.
 "Jo"