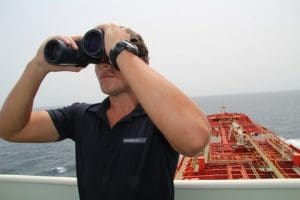 Leading security and risk management company, Ambrey Risk, has been recognised by the prestigious annual league table as the 8th fastest growing company in the UK based on sales growth over the past three years.
Since being founded in 2010 by its three Directors, Ambrey Risk has grown rapidly and is now one of the leading providers of private maritime security risk management services globally, employing over 60 full-time staff, with more than 300 deployed personnel at any one time and around 600 security personnel trained and available for deployment.
Ambrey has international offices in Dubai, South Korea, Singapore, Hong Kong and India which alongside the launch of an industry leading training and protective services division has helped the turnover of the company grow nearly 22-fold since 2011. 2015 is set to be another hugely promising year for the company following a successful recent acquisition and the signing of several long-term contracts with major international shipping companies.
James Gasson-Hargreaves, Managing Director (UK) of Ambrey commented: "In an ever crowded marketplace we are very proud of the success of our business, from a small privately funded start-up to a first-class internationally recognised provider of choice. We attribute this to our rigorous client focus and adherence to the best of industry standards, ensuring that our customers receive a reliable, consistent and high quality service."
"Recognition from the Sunday Times Virgin Fast Track 100 strengthens our belief that this approach is fundamental to our success. Our inclusion is acknowledgement of the hard work and achievements of all the team at Ambrey. Our offering continues to build with significant new clients in our newer service lines of training and protective services making us one of the most active Private Security Companies in the sector."
A large proportion of the growth seen by Ambrey Risk over the past couple of years has been underpinned by the success of its training business. Ambrey set its sights firmly on becoming the number one trainer in the private security sector in 2012 and in 2014 has trained in excess of 1000 security professionals in the UK, Poland, Greece, Iraq and India.
Mick Clifford OBE, Ambrey's Training Director said, "The last twelve months has seen an increased demand for our training courses, which is excellent given the investment we have taken into certification by City & Guilds both in the UK and overseas."
"We are pleased to be able to offer ex servicemen and women the opportunity to establish a career in the sector following retirement from the military. These men and women have gained a wide variety of skills that can be brought into, and transferred directly to, our industry. We can help them refine these skills for the commercial environment and put them into practice. We are very proud of our pass rate, with many of those that attend the City & Guilds taking up tasks with Ambrey on completion, " added Mr Clifford.
Ambrey's courses are varied from the internationally recognized City & Guilds 8269 MSO Level 3 Award and Education and Training Level 3, Edexcel's First Person on Scene (FPOSi) through to the Highfield Level 3 First Aid at Work and Level 4 Port and Terminal Security Risk Management course. The increase in demand for courses is commensurate with Ambrey's accreditation to ISO/PAS 28007, where adherence to appropriately trained security contractors remains a priority for Ambrey's clients.
Mr Clifford concluded, "Ambrey's risk international training services are world class, this starts with the appropriate training for private security contractors equipping them with the required skills and knowledge to conduct their business in high risk environments. We're always searching for new contractors for our ever-increasing client portfolio. The Private Security Industry offers fantastic opportunities for military service leavers, Ambrey is the gateway to getting started."
About Fast Track 100
Now in its 17th year, the Sunday Times Virgin Fast Track 100 ranks the UK's fastest growing private companies by sales over a three-year period. To meet league table criteria, companies' annualised sales must exceed £250, 000 in the base year and not show a drop from the penultimate to the latest year, where total sales had to exceed £5m. Firms had to have ten or more employees, be making an operating profit of at least £500, 000 in their latest available accounts, and be forecasting further sales growth.
About Ambrey Risk
Ambrey Risk is one of the leading Maritime Security Risk Management companies globally specialising in Commercial Shipping and the Oil and Gas sector. The company employs over 60 full-time staff, has more than 300 deployed personnel at any one time and retains around 600 security personnel vetted and available for deployment. Ambrey also offers a unique training package for Military service leavers, which includes opportunities for employment on completion of training. The company's centre of operations is in Brockhampton, near Hereford. An industry leader in risk advisory, management and security services worldwide, with offices and representation in the United Kingdom, Dubai, India, Singapore, Hong Kong and Korea, it has built an excellent reputation as a respected anti-piracy specialist, supporting ship owners, managers, charterers and insurers to the highest standards of compliance.
About Ambrey Risk Training & Recruitment
Ambrey Risk Training and Recruitment is part of the Ambrey Group. We deliver a range of internationally accredited security training courses to the highest standards in the industry and equip the military service leaver with the necessary skills to gain employment across the private security industry. The company's recruitment and training opportunities include maritime and land-based training courses, concentrating specifically on Security Risk (mitigation) management, Security Surveys, Close Protection, Health and Safety training, teaching qualifications and medical training courses.
As well as being approved training providers to City and Guilds and the Maritime Coastguard Agency, Ambrey's courses are compliant with International Land and Maritime Law and Conventions, including the International Voluntary Code of Conduct for Private Security Service Providers, UNCLOS, SUA and SOLAS and the ISPS code to meet international training standards. The company also offers bespoke training packages for corporate and private clients with specific training requirements.
"Jo"