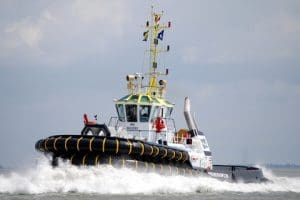 Leading towage and salvage specialist Multraship and Damen Shipyards Group have confirmed an agreement for three new ASD (Azimuth Stern Drive) Tugs, all for delivery in 2015.
After delivery in Vietnam, scheduled for the end of first-quarter 2015, two state-of-the-art ASD Tugs 3212 will operate for Multraship as sister vessels to the 83-tonne bollard pull Multratug 19, which was built by Damen in Romania and delivered in 2012. The tugs will have excellent sea-keeping behaviour, superb manoeuvrability and outstanding towing characteristics.
As part of Multraship's continuing fleet expansion an ASD Tug 2810 Hybrid is scheduled to be delivered in Romania in first-quarter 2015. With an expected bollard pull of 61 tonnes, it will be the second vessel of its type built by Damen to come into operation. The ASD Tug 2810 Hybrid has a diesel-direct, diesel-electric and battery-powered propulsion system, resulting in reported fuel savings of between 10 and 30 percent and reduced emissions of about 60 percent, depending on how the vessel is used.
Leendert Muller, managing director of Multraship, says, "Multraship continues to expand its client base in the offshore energy sector as well as in its harbour towage operations. All three ASD tugs are highly suitable for these markets whilst their FIFI 1 fire-fighting equipment makes them especially valuable for emergency response. We are delighted to have collaborated with Damen on our fleet expansion programme. We are both family-owned companies with a Dutch heritage and an international outlook, so we make a good fit."
About
Multraship is a leading Dutch towage and salvage company. It is a division of the Muller Maritime Group, which has been engaged in the shipping industry for more than 230 years. The company's core activities include harbour towage, salvage & wreck removal, ocean towage and support to offshore energy & dredging industries. Multraship operates and manages a large fleet of tugs, salvage vessels, floating sheerlegs and other craft equipped with modern towage, salvage and fire-fighting equipment and manned by experienced and highly-trained masters and crew. www.multraship.com
Damen Shipyards Group operates 32 shipyards and ship repair yards around the world, employing 8, 000 people. It has delivered more than 5, 000 vessels in more than 100 countries and delivers approximately 160 vessels annually to customers worldwide. www.damen.com
"Jo"