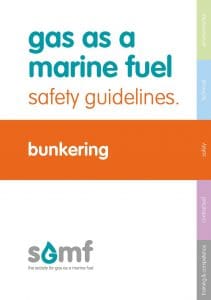 SGMF has today released the long awaited 1st edition of the LNG Bunkering – Safety Guidelines.
A first output from one of six working groups having been written and compiled by a learned group of experienced individuals from across the SGMF membership, the objective of the guidelines is to provide the bunkering industry with the best practices in order to ensure that gas–fuelled ships are re-fuelled with high levels of safety, integrity and reliability.
The LNG Bunkering – Safety Guidelines include chapters on LNG Hazards (Leaks, Cryogenic, LNG Fire and Explosion), Safety Systems (Roles, People in Charge, Communications and Emergency Systems), Bunkering Procedures (Before, During and After) and Specific Safety    Guidance for Ship to Ship, Shore to Ship and Truck  to Ship Bunkering.
Speaking with Klas Ljungmark, Principal Technical Advisor for SGMF and secretary for the LNG Bunkering – Safety Guidelines working group, Klas mentioned that all the credit must go to the working group members involved in that team. The working group consisted of employees from SGMF Members including the Swedish Maritime Authority, Shell, MOL Group, Lloyd's Register, DNVGL, Norwegian Maritime Authority, Alkane Marine and IAPH.
Mark Bell, General Manager – SGMF, stated this was a critical time for the industry to have reliable guidelines that everyone can follow but also now build upon with experience of operations. It's about keeping a safety record and ensuring to the best of our knowledge and ability that this process is carried out in the right way, these guidelines will become a key reference for the industry to help make that a reality.
SGMF's guidelines are available free of charge to all members of the Society. To find out more about these guidelines or how to purchase your hardcopy, please email the SGMF Team: office@sgmf.info.
_____
Interview opportunities are available with SGMF Technical Advisers on all Gas as a Marine Fuel related topics
The SGMF (The Society for Gas as a Marine Fuel) is a newly established membership based organisation
SGMF's sole purpose is to encourage the safe and responsible operations of vessels using gas as a marine fuel and in particular activities relating to the supply and use of LNG for this purpose.
For more information, please visit www.sgmf.info.