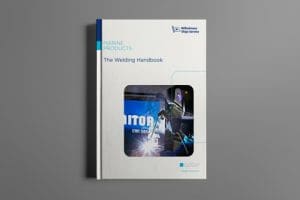 Over the past 50 years, the maritime industry has changed so much that it is almost unrecognisable. Ship owners and operators now have to deal with increased vessel size, the totality of the Global Fleet, ever-changing Flag State requirements, internet connectivity at sea and the rapidly expanding offshore and cruise sectors.
However; some things in shipping remain constant – ships are still constructed from steel. Welding onboard is still as vital a maintenance task as it was in the 60s, which is why Wilhelmsen Ships Service (WSS) still produces a product which is as valued today by modern crews as it has always been. The Welding Handbook.
First produced in the 1960s under the Unitor brand name, The Welding Handbook has consistently evolved hand in hand with the industry through its numerous re-prints and re-iterations. Created to show crews how to weld and cut in a safe and efficient manner on-board ship, the latest edition of the handbook, it's 14th has exactly the same aim as its very first.
Showing how to identify the base material, what welding method and consumables to use, and what welding parameters to select, it is a detailed reference book packed with tables, charts, specification sheets and graphics covering every aspect of maritime welding and all its associated processes.
Leif Andersen, Technical Product Manager Welding, WSS, has been responsible for the task of updating the book for a number of its more recent versions and is sure the advice and information it provides is as relevant as ever. He says:
"There is no doubt that the industry has changed in ways that we could not have anticipated. In 1968, the largest container vessel on earth was the OCL Encounter Bay, capable of carrying 1, 530 TEU. Now, in 2015, the MSC Oscar, currently the biggest container ship in the world, can carry a staggering 19, 224 TEU."
"Today's crews may have the most advanced welding equipment and consumables onboard, but without the knowledge of how to utilize them to their full capacity, they're good for nothing".
As well as an improved literature page, new and improved pages for corresponding steel standards and classification of steels, new pages on Gas Distribution Systems, standards for electrode and equipment classifications have been added. There is also a complete update on all welding products in this new version of the book.
The 14th Edition of The Welding Handbook is free to all Wilhelmsen Ships Service customers, or purchasers of Unitor welding equipment and consumables. Contact your nearest Wilhelmsen Ships Service Customer Service Centre if you would like to receive an updated copy.
Find out more here:  http://www.wilhelmsen.com/services/maritime/companies/buss/marineproducts/Pages/marineproducts.aspx