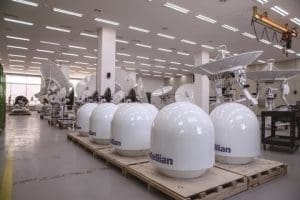 The 4th Edition of the COMSYS Maritime VSAT Report confirms Intellian as the leading company within the stabilised antenna market, with a 35.6% share of the market. "Intellian now leads the market under a single brand having achieved spectacular results since 2012, " the report comments.
Stabilised antenna systems are the critical hardware component of all marine VSAT services but the market has proved cautious over new products, based on expectations of associated high cost and reliability risks. Overcoming these doubts vindicates Intellian's commitment to innovation and intelligent design, supported by a rigorous testing regime to document durability and reliability, supported by a three year warranty. Within a very short timeframe Intellian has also established a network of trained dealers, installers, technicians and operators to reinforce its competitive advantage, offering global service and maintenance capabilities.
The COMSYS finding verifies a widely acknowledged market shake up, through which Intellian has ascended to market leadership at the expense of pre-existing players, based on modern production facilities, experienced professionals and a global presence. Combining these capabilities with an aggressive market strategy, Intellian believes it can claim credit for a significant jump in demand across the sector. Competitive pricing has been backed by new service concepts, including the inclusion of spare drive belts pre-packaged into its antenna and bundled spares package offers.
The blend of technical excellence, service commitment and value offered by Intellian has resulted in its products being adopted as part of the core offering of many of the major operators, including Airbus (Vizada/Marlink) and Inmarsat. According to the 4th Edition of the COMSYS Maritime VSAT Report: "In our 2012 report we judged Intellian's product to also be more completely integrated and thought through than many others – the company informed us that it has made a number of design decisions that allow for simplified installation, easy maintenance and easily understood user control interfaces." COMSYS concluded that Intellian had "the potential to substantially shake up the established order of the business". Confirming the accuracy of the prediction, the report says that, in 2013, Intellian was responsible for over one third of global stabilised antenna sales in a market that itself grew by more than 50 per cent. "In part, some of this growth can be attributed directly to Intellian which has been possibly the largest instigator of lower prices for standardised stabilised antennas since 2012."
Eric Sung, CEO of Intellian, commented: "We are very proud of the growth and market penetration that has been achieved in such a short time – in 2009 sales were at a figure of 36 units, in 2013 this had increased to 2, 198 units placing Intellian at the forefront of the market. That is a great testament to the quality of our products and our people. We are extremely pleased that our achievements have been verified by COMSYS and the benefits we have brought to the entire sector recognised by such a venerable organisation."
About
Intellian is the leading global provider of stabilized marine satellite antenna systems. With their varied and comprehensive range of antenna systems including Satellite TV, VSAT, Global Xpress, and FleetBroadband solutions, Intellian supports a wide range of industries, including Commercial Maritime, Offshore Energy, Defense & Intelligence and Luxury Yachting.
Intellian. Connect with the best.
"Jo"