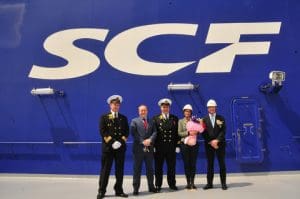 On 9 April 2015 a naming ceremony was held in South Korea for SCF Mitre, the fourth vessel in a series of state-of-the-art Atlanticmax-type LNG carriers built for Sovcomflot (SCF Group). The vessel, as with her sistership SCF Melampus that joined SCF Group's fleet in January 2015, will be operated under a long-term time charter to Royal Dutch Shell.
A series of advanced design Atlanticmax-type LNG carriers have been constructed under a joint project developed by Sovcomflot and STX Offshore & Shipbuilding. The first two tankers of the series, Velikiy Novgorod and Pskov, have already been put into service on long-term contracts with Gazprom, with the design of SCF Melampus and SCF Mitre a continuation of this project. These ships have been constructed to adhere to all requirements of their charterer regarding environmental safety and energy efficiency.
These Atlanticmax LNG carriers have a cargo capacity of 170, 200 cubic metres and are equipped with triple-fuel diesel electric power generation systems. The ships are built to ice class 'Ice2' and are designed to operate at low temperatures and in harsh climatic conditions. LNG carriers of this type are able to transport gas from the majority of the World's existing LNG export terminals.
SCF Mitre is expected to enter service by the end of April 2015.
Sergey Frank, Sovcomflot President and CEO commented:
"SCF Group and Royal Dutch Shell have enjoyed many years of mutually beneficial cooperation, on the basis of strong bilateral relations and involving large-scale international projects. We are grateful to our respected partners for their readiness to extend our partnership in the marine LNG transportation segment. SCF Mitre is a state-of-the-art LNG carrier, one of the best in her class and with a unique design, as well as optimal technical characteristics meeting all current requirements and environmental standards."
It is symbolic that the names of the vessels of this series reflect the partnership between Sovcomflot and Royal Dutch Shell. The abbreviation SCF is combined with the Latin names of shellfish that have beautiful clam-shells – Melampus and Mitre.
About
SCF Press Office
PAO Sovcomflot (SCF Group) is Russia's largest shipping company and a world leader in the transportation of hydrocarbons by sea as well as the servicing and support of offshore exploration and oil & gas production. The company's fleet (owned and chartered vessels) specialises in hydrocarbon transportation from regions with challenging ice conditions and includes 152 vessels with a combined deadweight of over 12.6 million tonnes. A third of these vessels are of a high ice class. Sovcomflot supports large-scale energy projects in Russia and overseas, including: Sakhalin-I, Sakhalin-II, Varandey, Prirazlomnoye, Tangguh and Peregrino. The company is registered in Saint-Petersburg and has representative offices in Moscow, Novorossiysk, Murmansk, Vladivostok, Yuzhno-Sakhalinsk, London, Limassol, Madrid, Singapore and Dubai.
The current Sovcomflot fleet comprises 11 LNG and LPG carriers, which serve high-profile clients amongst the world's largest oil & gas companies, including Gazprom, Sakhalin Energy, Sibur, Shell, Transammonia and Geogas. Sovcomflot's gas carriers operate on a global scale, and serve all main regions where LNG is produced and consumed. Sovcomflot ships are involved in numerous Russian and international shipping and trans-shipping projects.
Sovcomflot Group's ship-building programme includes the current construction of two state-of-the-art LNG carriers, including an icebreaking ice-class vessel for the Yamal LNG project, which is planned to be operated on the Northern Sea Route.
Sovcomflot's development strategy sets out the company's further expansion of its LNG shipping operations, including the development of new industrial projects. The company's vast experience of transporting energy resources in ice and other harsh climatic conditions allows it to provide effective solutions to guarantee a year-round supply of LNG for any type of project.
"Jo"