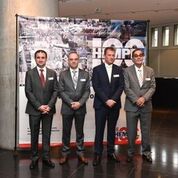 Recognising Greece as the world's largest shipping market, Hempel chose Athens to kick off the Group's centenary celebrations and invited customers from Greece, Bulgaria, Cyprus and Romania to a party in the Acropolis Museum on Saturday 9 May.
Hempel has had a permanent presence in Greece since 1952 as Hempel Hellas General Manager, Keld Laursen explains:
"For 63 out of the 100 years we have had our feet on the ground in Piraeus and Athens and we are very proud of this. We could think of no better way to celebrate Hempel's centenary than with our friends in Greece."
Hempel's Group President and CEO Pierre-Yves Jullien expanded:
"It is fitting – and a real pleasure – that the first significant centenary event is here in Athens.
Over 100 years the Group has changed significantly in size, in geographical coverage (we serve our customers in 110 countries today) and has expanded into new sectors such as protective and decorative coatings. In terms of earnings, we are in the top tier of our sector. But the marine paints business is where we started and is firmly embedded in our DNA and Greece is the biggest shipping nation in the world!
He went on to say:
"I would like to sincerely thank our customers, because without you we never would have been able to create 2000 jobs over the last ten years, giving a chance to these people to prove their value and to be proud of their achievements.
And without you we never would have been able to contribute significantly to the education of 40, 000 children in the poorest countries in the world, giving them a chance to have a decent life and to keep their dignity".
Pioneer Jørgen Christian Hempel founded leading world-wide marine coatings manufacturer Hempel in Denmark in 1915. An entrepreneur with a vision to protect man-made structures from corrosion and fouling, he created a company truly driven by innovation that fully embraces modern science and technology.
Today, Hempel is one of the fastest growing coatings companies worldwide and leads protective and antifouling technology. The company delivered a record net profit of EUR 71 million in 2014.
"Jo"