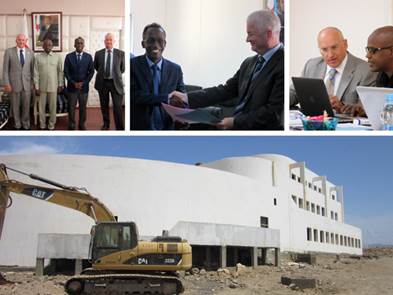 04/06/2015 ​​Firm dates have been set for the completion and inauguration of the Djibouti Regional Training Centre (DRTC) in Doraleh, Djibouti. In an amended Memorandum of Understanding (MoU) signed between IMO and the Government of Djibouti (3 June), it was agreed that the DRTC would be completed by 31 October this year prior to an inauguration ceremony no later than 18 November.
The centre, envisaged as a vital component in provision of security training in the East African region, is being built by the Government of Djibouti with funds provided by IMO. The Government of Japan is the primary donor.
The MoU was signed in Djibouti by Mr Moussa Ahmed Hassan, Minister of Equipment and Transports and by IMO's Chris Trelawny, Special Advisor the Secretary-General on Maritime Security and Facilitation after negotiations led by Mr Fred Kenney, Director Legal Affairs and External Relations Division.
The IMO team also met with the Prime Minister of the Republic of Djibouti, HE Abdoulkader Kamil Mohamed, who reaffirmed Djibouti's commitment to the rapid completion of the training centre. ​​​​​