The first day of racing at ISAF Sailing World Cup Weymouth and Portland sprung a few surprises with an uncommon north eastern breeze testing the fleet.
Ranging from 10-15 knots, the breeze coupled with glorious British sunshine, resulted in some exceptional racing on the 2012 Olympic waters.
The stakes have been described as high by the competitors competing in Great Britain and rightly so with internal Rio qualification battles on-going, ISAF Sailing World Cup honours, a share of the prize fund and Abu Dhabi Final spots up for grab.
Racing commenced at 11:00 local time and wrapped up early evening with the ten Olympic, three Paralympic and Kiteboarding events completing their race schedule.
Laser
New Zealand's Andy Maloney came out with intent in the Laser, taking the day one lead with a strong performance as he explained,  "We had good breeze between 10 and 15 knots. It was pretty shifty on the course but I had good pace and played the shifts and managed to come away with a first and second which is pretty solid. It was a good day."
The Road to Rio is a hard one and as well as international threats, Maloney also has to contend with domestic rivals on his journey. With the likes of his compatriots Sam Meech, Mike Bullot and Thomas Saunders all capable of challenging for medals, Maloney feels no internal pressure,  "It's good for us and the Australians to have a good squad and we're all pushing each other hard.
"It's exciting more than anything now in the Laser because it's coming down to the final part of the cycle so it's crunch time now."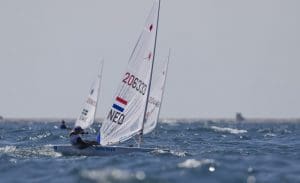 Yachting New Zealand named six crews for the Olympic Test Event on 18 May – see release here – . And as stated, will consider nominations the Laser following the World Cup Weymouth and Portland. A good performance by Maloney could go a long way for selection with Bullot in 15th, Saunders 20th and Sam Meech 21st after the opening day.
Nick Thompson (GBR) was not far off of Maloney's pace, finishing behind him in both races to sit in second.
London 2012 Olympic silver medallist Pavlos Kontides (CYP) was almost as strong in Weymouth and Portland's conditions as he did so well three years prior. A seventh and a fourth puts him third overall but he's got his eye on the top,  "I'm satisfied with my performance and races today but there's still a long way to go and I hope to move up. Having 40 top guys with this new ISAF World Cup, the stakes are high.
"You have to push to the end and every race counts. You can win this event without winning any races. Consistency will prove vital in the end."
The day's remaining race win went the way of Jesper Stalheim (SWE) who is fourth overall.
Laser Radial
The last time Marit Bouwmeester (NED), Evi Van Acker (BEL) and Annalise Murphy (IRL) competed against each other at Weymouth and Portland they were locked in a battle for Olympic medals.
Fast forward three years and they're fighting it out again at the ISAF Sailing World Cup.
Marit Bouwmeester (NED) was assertive on the race course, winning both races by a comfortable margin. The Dutch sailor, who won silver at London 2012, sits atop the pile with Evi Van Acker, London 2012 bronze medallist, trailing on five points following a 3-2 scoreline.
Murphy came through in second in the opening race and followed it up with a sixth in Race 2. She is third on eight points.
Great Britain's Alison Young sits fourth on 13 points.
49er and 49erFX
On the face of the 49er results it would be quick to assume that leaders Lukasz Przybytek and Pawel Kolodzinski (POL) were the stand out performers of the day. However, regattas aren't won on the first they. It takes a consistent performance across five days of racing to come out on top and the most consistent team of the day were the first placed John Pink and Stu Bithell (GBR).
The pair recorded a 8-3-9 scoreline and were the only team to record three single digit scores. "On the first day of the regatta it's always nice to start well and we're thrilled to bits with three top tens. We're fifth overall which is great and tomorrow brings another challenge because it's going to be windy and we'll be pushing on and hopefully get into that top three.
"It's a great fleet, the top boats in the world are here and no one is really missing. It's great that everyone is competing in the ISAF Sailing World Cup."
Bithell won silver in the Men's 470 at London 2012 and on his home waters he knows what the venue is all about,  "You could argue that I know Weymouth fairly well, " he said with a smile. "I've lived here for some years now, did the Olympic Games here and is there a home advantage, " he pondered,  "yes there probably is but incidentally we don't always get the wind direction we had today."
The Polish crew lead on seven points with Pink and Bithell four points off the leaders. Nathan Outteridge and Iain Jensen (AUS) and Dylan Fletcher and Alain Sign (GBR) are tied on 8 points in second and third.
Maiken Foght Schutt and Anne-Julie Schutt (DEN) lead the way in the 49erFX on three points following scores of 6-2-1. Alex Maloney and Molly Meech (NZL) follow in second place on six points.
Sarah Steyaert and Aude Compan (FRA), Tamara Echegoyen and Berta Betanzos (ESP) and Martine Grael and Kahena Kunze (BRA) are tied on seven points from third to fifth.
Men's and Women's RS:X
It's a British 1-2 in the Men's RS:X and Women's RS:X. Nick Dempsey and Tom Squires are locked on three points apiece in the men's whilst Isobel Hamilton leads Bryony Shaw by a single point in the women's.
From three races Dempsey and Squires took a race victory each with the third place Mattia Camboni (ITA) taking the other.
"We had nice racing, very close, " exclaimed Dempsey. "Tom and I are quicker than the fleet. Our training's gone really well and we're starting to sail well. It's nice and quite good fun racing."
The pair train together on a daily basis which has helped them in the build-up to the regatta as Dempsey explained,  "It's nice having a competitive training partner. When we train we know we're training against one of the fastest people in the world.
"You never have to compensate. If you're beating Tom then you know you're going fast. That is what we've always missed having with our training partners so it's brilliant news."
"It's nice and quite good fun racing Tom."
In the Women's RS:X, Hamilton enjoyed a solid day on the water, staying at the front of the pack notching up a 6-2-2 scoreline. "It was definitely my best first day at a World Cup so far, " said the smiling Hamilton,  "I would love to be able to hold on to first for the whole week.
"It was really good racing and it's really nice to be racing at home. Weymouth is a fantastic venue and it's really great to be back here."
Shaw is a point off of Hamitlon after her 4-1-4 with London 2012 Olympic silver medallist Tuuli Petaja-Siren third overall. The day's race wins went to Joanna Sterling (AUS), Shaw and Ingrid Puusta (EST).
Finn
Andrew Murdoch (NZL) opened his Weymouth and Portland account with a strong display in the Finn, notching up a 3-2 to lead the 24-boat fleet.
Murdoch, a 2012 OIympian in the Laser, used his experience to full effect at the front of the fleet. He has opened up a four point lead over Jonathan Lobert (FRA).
Giles Scott (GBR) took the opening race victory of the day and followed it up with a 12th. He is third overall. The remaining race victory went the way of Josh Junior (NZL) who is sixth overall but just three points off the third placed Scott.
Men's and Women's 470
It's like London 2012 repeated in the Women's 470 with the gold and silver medallists occupying the spots they claimed three years ago.
Gold medallists Jo Aleh and Polly Powrie (NZL) dominated the day by taking both bullets whilst silver Hannah Mills and Saskia Clark (GBR) were forced to look at the back of the Kiwi boat in both races as they settled for two seconds.
Tina Mrak and Veronika Macarol (SLO) sit in third after the opening two races following a 4-3.
In the Men's 470, Stu McNay and David Hughes (USA) have a tasty six point lead over World #1 Panagiotis Mantis and Pavlos Kagialis (GRE). A fourth and a second gives them the lead at the early stage but with their experience, they won't be getting carried away.
Victories on the day went to the Greeks and Ferdinand Gerz and Oliver Szymanski (GER) who are sixth overall.
Nacra 17
As of 19:20 local time Thomas Zajac and Tanja Frank (AUT) lead the way in the Nacra 17. However, many of the competitors sailed the wrong course in Race 1 with Race Committee protests and vice versa. A handful of protests remain open that may result in further amendments.
As it stands the Austrians top the pile on four points followed by Matias Buhler and Nathalie Brugger (SUI) and Jason Waterhouse and Lisa Darmanin (AUS).
Paralympic Events
London 2012 Paralympic gold medallist Helena Lucas (GBR) began her World Cup campaign with intent. Double bullets give her a two point lead over Antonio Squizzato (ITA) who finished directly behind the Briton in both of the days races.
Malaysia's Al Mustakim Matrin sits in third overall.
In the SKUD18, Marco Gualandris and Marta Zanetti (ITA) and Alexandra Rickham and Niki Birrell (GBR) are level on three points.
The Italian and British teams shared the top two places on the day, taking a bullet and a second apiece.
Will Street and Megan Pascoe (GBR) are third overall.
It is tight at the top in the Sonar with four crews locked on five points.
Norway's Aleksander Wang-Hansen, Marie Solberg and Per Eugen Kristiansen took the opening bullet of the day and followed it up by a fourth.
John Robertson, Hannah Stodel and Steve Thomas (GBR) took the second bullet of the day but like the Norwegians also count a fourth.
Colin Harrison, Jonathan Harris and Russell Boaden (AUS) and John Twomey, Austrin O'Carroll and Ian Costelloe (IRL) notched up a second and a third each and are also tied with the Norwegian and Irish crews.
Racing resumes at 11:00 local time on Thursday 11 July with some great race action on the cards.
VideoMedal Races will be live from ISAF Sailing World Cup Weymouth and Portland on Sunday 14 June from11:00 local time.
URL – https://www.youtube.com/watch?v=XQ8hlJyeqxk
Embed – <iframe width="560″ height="315″ src="https://www.youtube.com/embed/XQ8hlJyeqxk" frameborder="0″ allowfullscreen></iframe>Daily 3 minute agency news feed will be available. Includes long lens shots, on board action, mounted cameras, commentary and sound on tape.For further TV news information or interview requests please contact:Pilar Alberola Albors
M: +44 (0) 7546 830 192
E: palberola@sunsetvineapp.comSabina Mollart-Rogerson
M: +44 (0) 7922 140 148
E: smollartrogerson@sunsetvineapp.com

Images

OnEdition will be providing high resolution for editorial use during ISAF Sailing World Cup Weymouth and Portland. Click here to register – http://www.w-w-i.com/isaf_swc/register_terms.php

HOW TO FOLLOW

Live TRACKING
Tracking is available in 2D and 3D so you can follow the action almost as if you were there. Click here to find the tracking links – www.sailing.org/worldcup/multimedia/tracking.php

Live COMPETITION STATUS
Get the low down on the status of all the races. See who's racing, see what course they're sailing and find out the weather info static.sportresult.com/federations/isaf/CompStatusScreen/index.html

Live RADIO
A live radio broadcast will cover the racing throughout the day. Click here to tune inwww.sailing.org/worldcup/multimedia/live-radio.php

Live BLOG
Join in and have a chat with James Boyd on the Live Blog. Get the low down on and off the water as the day progresses. Click here to engage www.sailing.org/worldcup/multimedia/live-blog.php

Live RESULTS
Want to know how your favourite sailor is getting on? Check out the results as they come in off the water here www.sailing.org/worldcup/results/index.php

Live MOBILE INFORMATION
On the go? In a rush? Not got time to follow the racing? Fear not as you can follow what's going on straight from the results system on your mobile. Click here to view the mobile mark roundings.

There's an App for that…
Live Tracking via the Sailviewer-3D Tablet App will be available for devices with 7″ or greater screens. 
Google Play – play.google.com/store/apps/details
iOS – itunes.apple.com/us/app/sailviewer-3d/id912801278

Get Social
ISAF Sailing World Cup Facebook
http://www.facebook.com/ISAFSailingWorldCup

The @ISAFupdates and @SailingWC_GBR Twitter account will be following the action throughout the week. Get involved by using the #SailingWorldCup and #SWC2015 hashtags.

Each course also has its own designated twitter page.
Each class has been allocated a em_tag to follow action from each race
@SWC_GBR_A #SWCrsx #SWCrsxW #SWCkite
@SWC_GBR_B #SWCskud #SWCsonar #SWC2_4m
@SWC_GBR_C #SWC49er #SWC49erFX
@SWC_GBR_D #SWC470 #SWC470W
@SWC_GBR_E #SWClaser #SWClaserRad
@SWC_GBR_F #SWCfinn #SWCnacra17

ISAF Sailing World Cup website
http://www.sailing.org/worldcup/home.php

Contact
Pippa Phillips – Media Centre Manager:
+44 (0)7967 705697 pippa.phillips@intotheblue.biz

ISAF Communications Department
Tel: + 44 2380 635 111
Fax: + 44 2380 635 789
Email: marketing@isaf.com

ISAF Sailing World Cup
The ISAF Sailing World Cup is a world-class annual series for Olympic sailing. It is open to the sailing events chosen for the 2016 Olympic Sailing Competition. Its centre piece is the ISAF Sailing World Cup Final in Abu Dhabi, United Arab Emirates.

The 2015 ISAF Sailing World Cup will consist of five regattas for all ten Olympic events and where possible, Formula Kite Racing. Qualification places for the ISAF Sailing World Cup final are up for grabs at each event. The final will bring together the top 20 boats in each Olympic event and an Open Kiteboarding event where the World Cup Champions will be crowned

2015 ISAF Sailing World Cup
Melbourne – 7-14 December 2014
Miami – 25-31 January 2015
Hyères – 20-26 April 2015
Weymouth and Portland – 8-14 June 2015
Qingdao – 14-20 September 2015
2015 Final Abu Dhabi – 27 October to 1 November 2015

View the World Cup qualification system here.

For more information about ISAF please go to isaf.com or contact marketing@isaf.com

UK Sport

UK Sport is the nation's high performance sports agency responsible for the strategic investment of National Lottery and Exchequer funding into Olympic and Paralympic sports and bringing major sporting events to the UK.

ISAF Sailing World Cup Weymouth & Portland is part of UK Sport's #EveryRoadtoRio events series, which will feature over 30 world class sports events the length and breadth of the UK, with over 900, 000 tickets available to the British public to support their athletes.

This ambitious National Lottery funded programme will support British athletes' preparation and qualification for Rio 2016, with up to 85 individual and 10 team Rio qualification spots available,  while generating economic impact for host cities and regions of over £37 million.

Throughout the #EveryRoadtoRio series UK Sport will be promoting exclusive ticket offers, opportunities to meet the athletes and get privileged behind the scenes access to events. Sign up now at www.uksport.gov.uk/events

About The International Sailing Federation
The International Sailing Federation (ISAF) is the world governing body for the sport of sailing.

ISAF is made up of 139 Member National Authorities (MNAs), who are its principal members, and responsible for the decision making process that governs the sailing world.

There are currently more than 100 ISAF Classes, ranging from the small dinghy classes for young people up to 60 foot ocean racers.