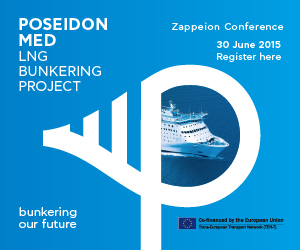 Poseidon Med Stakeholders Conference is to be held on 30 June at Zappeion, Athens. The conference aims to provide an update on the technical and financial aspects of the project and raise discussion among Shipping and Energy Industry stakeholders. 
State authorities, shipowners, ports, financiers, technology leaders will have the chance to discuss on the prospect of LNG as bunkering fuel and the prerequisites to render the transition to clean gas feasible and sustainable. EU officials are expected to present on the potential of funding schemes to support this transition.
Poseidon Med Stakeholders Conference will be an open registration event.
To register, viewers can visit www.poseidonmed.eu