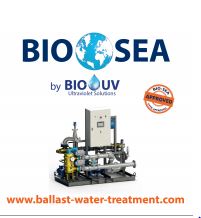 BIO-SEA organized commercial and technical seminars, between April and June 2015, on its ballast water treatment systems, in its production factory of Lunel, France. Partners from Marine Services and Shipping Ltd (MSS) and Marine Marketing International (UK and Europe) attended the event. The aim of those seminars were to strengthen, on one side the commercial skills and precise specific information on the BIO-SEA BWT systems, and on the other side to allow them to become certified BIO-SEA Sales and Service Partners.
Thanks to products demonstrations and manipulations, the participants gained a better knowledge on the BIO-SEA systems and are now certified to provide worldwide ship owners with technical advice, surveys and turnkey implementation projects of BIO-SEA systems.
About MSS… Marine Services and Shipping Ltd. is a service provider of wide array of turnkey engineering solutions and maintenance to shipping companies worldwide.
About MMI… MMI offers professional and cost effective systems solutions to customers, providing assistance and information based on their extensive knowledge of the ship repair industry.
MMI represents BIO-SEA in UK and Ireland (Eire), Belgium, Luxembourg, Switzerland, Monaco, Croatia, Slovenia, Montenegro, Serbia, Bulgaria and Romania.
"Jo"