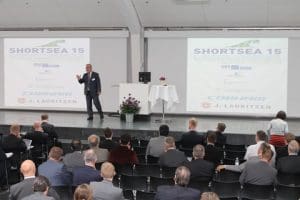 "Motorways of the Sea & Short Sea 2015" European Conference in Copenhagen highlights funding opportunities for investments in the Sulphur Emission Control Area and the search for market strategy
Ship operators, investment chiefs, regulators and analysts are striving to establish robust ways to galvanise a sector that handles 1.7bn tonnes of freight a year, experts at the Motorways of the Sea & Short Sea 2015 European Conference made clear.
The sector is struggling with new regulatory constraints in relation to the Sulphur Emission Control Area (SECA), while grappling with dire freight rates and with a squeeze on investment.
Thirty top speakers intimately concerned with the future of European deep sea and short sea shipping provided a wealth of new ideas and statistics, and led intense discussions at the two-day Copenhagen gathering, which was chaired by José Anselmo, principal administrator of the European Commission's Directorate General for Mobility and Transport, DG TREN. Mr Anselmo is a key figure in promoting the Motorways of the Sea (MoS) concept.
MoS covers deep sea shipping; short sea shipping; ports; ports' connections to the hinterland (both physical such as rail and tunnels, and digital for example 'single window' and logistic systems). Marine exhaust scrubbing systems and new-SECA compliant engines, port reception and liquefied natural gas re-fuelling facilities are among key areas. MoS has €1bn for grants to investment to support actual deployment in shipping and ports on the above lines.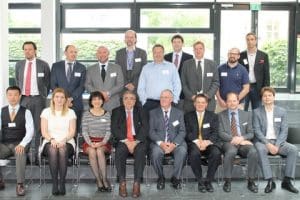 More than 130 delegates from 24 countries took part in the conference, which had a 60%-plus participation from outside Denmark. The opening session began with remarks by Mr Anselmo, a keynote speech by Brian Simpson, European Coordinator for Motorways of the Sea, and a welcome address by Anne Steffensen, director-general of the Danish Shipowners Association, who highlighted the dense network of routes serving the European region, particularly its northern reaches.
Mr Simpson presented his strategic vision and priorities for Motorways of the Sea, insisting on the need to focus on activities around the priorities:
– Environment (including notably SECA and CO2)
– Integration of maritime transport in the logistics chain (for example physical connections to hinterland and logistics information systems)
– Human element, safety and traffic management
and on the interface with the TEN-T Core Network Corridors.
Mr Simpson was clear on the need to connect properly the full 'universe' of ports represented by MoS – totalling around 400 (100 categorised as core and 300 as comprehensive) to the land Core Network and insisted that this would also bridge some of the important accessibility gaps existing with peripheral maritime regions.
Mr Anselmo expected that the three priorities defined by Mr Simpson would inspire and guide the coming 2015 TEN-T Call for Motorways of the Sea, which meant that more resources will be allocated in the future, inter alia, to:
– support to SECA area tools (ports and ships)
– better integration of ships/ports/hinterland – in both physical and digital terms
– and the human element
These three themes were endorsed by conference delegates, with a clear sentiment that the Commission should allocate more money to the MoS project.
Harsh realities for many operators were underlined in a presentation by Prof Dr Orestis Schinas of Hamburg School of Business Administration. Owners were in dire straits, he said. Relatively new tonnage could be non-compliant with SECA requirements. Low freight rates were already leading to operational losses, and mandatory compliance called for fresh capital under conditions where it was impossible to pass the cost on to the users.
The options for operators were to keep up current services (this might not be an option but a 'must' despite the cash bleeding in order to retain market shares and reputation); improve financial structure (easier said than done with the potential for dilution of existing control schemes); seek new markets, again easier said than done as other trades were associated with risks and unknown demand pattern.
Another sobering analysis, of container short sea shipping markets, came from Lars Jensen, chief executive and partner of SeaIntel Consulting. He identified continued structural overcapacity as more orders for huge ships in the 18.000-21.000 teu range were expected, destabilisation of north-south, Atlantic, and regional trades, "blank sailings" to continue as a tool to manage capacity, and rates continuing to be under pressure
"Carriers are in survival mode right now, " said Mr Jensen. Longer-term there would be more consolidation, some carriers "will disappear, " and there would be closer operational process integration in the shipping line alliances, which would expand beyond the current east-west trade lanes.
Examining the situation in the Baltic, Anders Refsgaard, vice-president of DFDS, said: "Tonnage is getting too small – and old, while costs are increasing." He referred to "disruptive innovation – the container industry is taking larger and larger market shares in the short sea, cargo moving from sea to road where possible."
In a presentation by Mike Garratt, managing director of MDS Transmodal and his colleague Antonella Teodoro on trade in the Atlantic, it was said that shipping by sea was per kilometre far cheaper than road. The challenges were in the cost of handling and in onward distribution.
The answers lay in efficient stevedoring (for example more containers on ships' trailers), port-based distribution to minimise onward haulage and develop port-based regional economies; and opportunities in consolidating several markets to achieve critical mass through multi-porting and integrating with rail.
Per Westling, chief executive of Stena RoRo AB, turned to analysis of the roll-on roll-off and roll-on/passenger market. He said of Stena "Between Germany and Sweden we are lifting 43, 000 trucks and 50, 000 cars off the road every year. And it is now done in 'super-green' fashion with methanol as a fuel. A continuous improvement in the environmental performance of the short sea ro-ro fleet is necessary and ongoing – shipping is the most environmentally friendly mode of transportation."
Analysing the chemical tankers segment, Michael Adeltoft, senior vice-president for chartering and operations at Nordic Tankers, said that in general in Europe, the ships were earning only slightly more than daily operational expenditure cost. "Numerous ships have not been able to pay off debts over the past five years, " he said. The additional cost bearing down on short sea shipowners could only be transferred to customers, namely the chemical industry, adding to pressure on the industry's competitiveness.
"There are already too many players in North European short-sea looking for new opportunities, " added Niels Kjær-Richardt of Aarhus-based Unifeeder. Mr Kjær-Richardt said that huge investments were needed by carriers, but a large network was required to balance exposure. There was room in the containerised market for three to four dedicated players, whereas there were 10 operating.
What she called "policy gaps" in the short sea shipping market were enumerated by Lieselot Marinus, director for shipping and trade policy at the European Community Shipowners' Associations. She spoke of political developments and EU rules that she said had a negative impact on short sea shipping, and of initiatives that aim to have a positive impact but were not making much progress. Ms Marinus criticised "cumbersome, bureaucratic procedures" and said that the "driver" for policy – sustainability – became one of the "obstacles."
Views of the European Short Sea Shipping Network were outlined by its chairman, Roberto Martinoli, who is chief executive of Grande Navi Veloci . He asserted that following a public consultation on a review of mid-term strategy on maritime transport, the European Commission was "ready to renew is commitment!" He said that a staff working document was scheduled for October 2015, and it was planned to announce a legislative maritime package for 2017.
Mr Martinoli described short sea shipping as a growth industry: "Short sea shipping is highly successful and it is the only mode that has proved able to keep up with the growth of road transport. It performs 40% of all tonne-kilometres in Europe while the share of road transport is 43%.
Mr Martinoli said that huge EU financial commitments have been recently funnelled to boost frequency and more sustainable and commercially efficient services to facilitate a substantial shift of traffic from congested roads to combined "land-maritime routes."
François Gaudet of the European Investment Bank said that the Bank was invited to reflect on how financial instruments established under the Connecting Europe Facility could help the industry face the challenge of financing investments to meet the new sulphur emission standards. The initial conclusion from market investigation was that banks found the current sector risk excessive: the level of daily rates, amid over-capacity, was the fundamental barrier to financing. There was little flexibility to finance environmental improvements (conversion, scrubbers, water ballast treatment systems) on the existing fleet.
Banks were moving away from asset-based financing to a corporate approach, as favoured by the EIB, "and operators need to start thinking in these terms also, " said Mr Gaudet.
Responses and feedback from delegates indicated that the event was well received, and there was acclaim for the chairmanship of Mr Anselmo.
"Thank you for organising a truly inspiring event, " said Willem Roekens of the WiderMoS project.
The event had begun on the evening of Wednesday June 17 with a welcome reception on board the historic schooner Halmø at Amaliekaj hosted by shipping group J Lauritzen, at which there was a welcome from Thomas Wøidemann, company president.
The conference was organised by Maritime Development Center of Europe and CBS Executive, in collaboration with the European Short Sea Network. CBS executive was responsible for the programme, which was put together by Irene Rosberg, programme director of the Executive MBA in Shipping & Logistics (the Blue MBA) at Copenhagen Business School. Ms Rosberg also played a major role in securing corporate sponsorships.
The conference had a distinctive participation from executives who have taken the Blue MBA courses – starting with graduates from the very first Class in 2003 and every Class right up to students who have just been admitted for the 2017 Class.