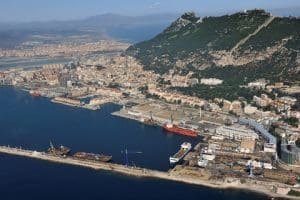 Gibdock, the Gibraltar ship repair yard, is strengthening its impact within the German ship owning market. Working in partnership with its local agent, Hamburg-based Combitrade, the yard has managed to win a significant amount of business from some of the country's leading shipowners and managers in recent years.  
Further proof of the rising reputation of the yard in this important sector of the market was provided recently when Peter Döhle Schiffahrts-KG chose Gibdock to work on one of its 1730 teu capacity geared containerships.
John Taylor, Gibdock operations director, says "In many respects this was a routine drydocking, but the hatch cover work in particular was quite time consuming and there was only a tight time window for us to complete all the various tasks required by Peter Döhle. Our team rose to the challenge and redelivered the vessel back to service on schedule."
Peter Döhle selected Gibdock for this work partly because of its strategic location, which meant the ship could be docked at the yard without deviation before returning to its trade rotation. Other factors included Gibdock's reputation for good quality and for delivering projects on time.
Timo Schultze, Combitrade manager, says: "The most important issue for the owner was that the repairs to the ship should not be delayed, as the vessel had to catch the next charter. This meant that the whole project was very time critical, especially because of the extensive works to the hatch covers."
Largely due to Gibdock's reputation within the market for delivering on time, Combitrade was able to persuade Peter Döhle to rely on the yard. Mr Schultze says, "When Gibdock quotes the redelivery of a vessel for a specific date and time, assuming no unforeseen works occur, you can rest assured that you will get your vessel back as scheduled."
Budgetary factors were also an influential consideration. As Mr Schultze explains, "This is another of Gibdock's strong points – keeping to the budget without hidden costs in the quotation. This is particularly important at a time when charter rates are still low, and unforeseen expenses are difficult to accommodate."
Combitrade is confident that Peter Döhle will return again, based on its positive experience with this latest project, as will other German shipping companies. Mr Schultze concludes, "The best proof of the quality and the reliability of a yard are its repeat clients and Gibdock has a number in Germany. Hopefully Peter Döhle will be one of them in the future."