A recent survey conducted by national charity Hearing Dogs for Deaf People has revealed that 70% of deaf people with hearing dogs have been refused access on the UK high street *.
The Respondents of the survey claimed that restaurants, shops and cafes were the worst offenders, and reasons cited included 'hygiene' and a concern the dog would cause a disruption.
Hearing dogs go through a rigorous 18 month training programme, in which they are trained to toilet on command, lie quietly on the floor in a restaurant or café, and taught not to wander freely around the premises. The Chartered Institute of Environmental Health states that assistance dogs are unlikely to present any risk.
The charity is asking businesses to comply with the Equality Act 2010 by welcoming disabled people with hearing dogs onto their premises.
Michele Jennings, Chief Executive of Hearing Dogs for Deaf People said:
"Hundreds of deaf people in the UK rely on their hearing dog to help them every day, and it's upsetting and degrading when they are turned away from a business. Not only do hearing dogs carry out a wide range of practical tasks, but they also provide their deaf person with the support and confidence needed to live an independent life.
"The Equality Act 2010 states that service providers must not treat people with disabilities less favourably if they have an assistance dog, so we want to ensure that business owners, restaurateurs, hoteliers and all other service providers are aware of their legal obligation to allow assistance dogs into their premises."
The 'Who Lets the Dogs In?' campaign is supported by Sainsbury's, The Shard, The O2 and Specsavers, all of which open their doors to assistance dogs. For more information, please visit: hearingdogs.org.uk/access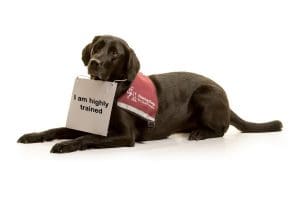 *Survey results
• 70% of deaf people with hearing dogs have been refused access on the UK high street
• 40% of respondents have been refused access on two or three occasions
• 63% have been denied access from a restaurant, 54% from a shop, 30% from a café and 23% from a taxi
• The most common reasons cited for access refusal were a 'no dogs' policy, hygiene reasons, and religious and cultural beliefs
About Hearing Dogs for Deaf People
Hearing Dogs for Deaf People is a registered charity that trains dogs to alert deaf people to important sounds and danger signals such as the doorbell, telephone and smoke alarm – providing life-changing independence and confidence. Hearing Dogs provides a national service and no charge is made to recipients.
Hearing Dogs for Deaf People, The Grange, Wycombe Road, Saunderton, Princes Risborough, Buckinghamshire, HP27 9NS