Dubai – GAC has unveiled a new version of its mobile phone application that gives users instant access to a directory of GAC contact details, wherever they are.
The latest upgrade of the app, which was originally launched three years ago, offers enhanced integrated search capabilities by office, country, contact names and job titles, as well as the ability to add a GAC office as a phone contact. Users can also see the latest updates from the Group with the introduction of the news section. The app links to the dynamic database of contacts across GAC's global network. With the latest version, users can view the directory at any time, even while updates are being made.
It's customisable, allowing users to specify their 'favourites' for quick and easy access. The directory can even be accessed offline, ensuring that essential contact details are always available.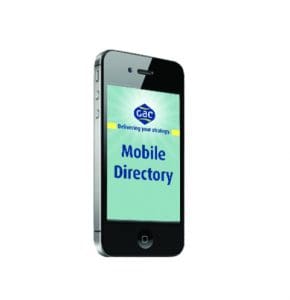 Christer Sjödoff, GAC's Group Vice President – Commercial, says: "Around three-quarters of the world's population now have access to mobile phones, and as a result mobile communications for business is moving to a new level. At GAC we are constantly working to keep up with the latest developments to make it easy and convenient for people to get in touch with people in our Group. The latest version of our directory app gives our customers, partners and colleagues around the world instant access to the latest contact details as well as added features to keep them up to date, on the go, wherever they go."
The GAC Mobile Directory Application is available for free download at www.gac.com/mobiledirectory/application.