[Cape Town, South Africa, 3 December 2015] Significant progress has been made on local construction of the INYOSI workboat that will support Transnet National Ports Authority's new R889 million ILEMBE trailing suction hopper dredger when she gets to work dredging South Africa's ports early next year.
Carl Gabriel, head of TNPA's Dredging Services Division, said: "The combination workboat/hydrographic survey boat is being built by Nautic Africa in Cape Town, as part of the supplier development programme for the ILEMBE dredger contract which was awarded to Royal IHC in Rotterdam, The Netherlands."
During November Nautic Africa celebrated a milestone with the relocation of the INYOSI's hull from a separate site to the company's premises to enable the wheelhouse to be attached.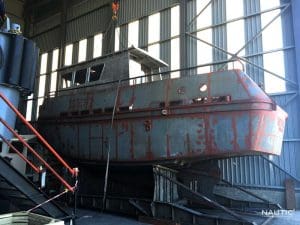 The hull was built elsewhere to avoid contamination between its steel structure and the aluminium of the wheelhouse constructed at Nautic Africa's premises. Nautic Africa sourced the aluminium for the wheelhouse from a supplier in Pietermaritzburg, KwaZulu-Natal. The engine, which was also 100% locally manufactured, was supplied by Caterpillar Marine Power.
TNPA has a dredging fleet replacement programme underway which is in excess of R2 billion.  This programme is an integral part of Transnet's Market Demand Strategy – now in its third year – which aims to enable the effective, efficient and economic functioning of an integrated port system with the infrastructure and capacity to promote economic growth and contribute to job creation.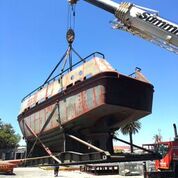 Gabriel said: "Very importantly, the INYOSI will be fully equipped to conduct hydrographic surveys, which usually require TNPA to transport its survey craft from port to port. She will accompany the ILEMBE dredger on her voyages to other ports and will ferry stores, spares and crew to the dredger without the need for extra tugs, thus saving fuel and enabling the ILEMBE to be self-sufficient.  When not in use the INYOSI will be lifted onto the ILEMBE using the dredger's crane and housed on a purpose-built cradle."
A team of sixty people has been involved in the production of the 11 metre workboat – 25 people on the design and 35 on the construction.
Stuart Mc Vitty, Project Manager at Nautic Africa, said: "Nautic Africa is extremely proud to have been chosen as the principle shipyard for this project. This is a vessel that has been designed by South Africans, built by South Africans and will be used in service for South Africans."
Nautic Africa expects the new INYOSI workboat to be handed over to TNPA early in 2016.
About Transnet National Ports Authority
Transnet National Ports Authority (TNPA) is one of five operation divisions of Transnet SOC Ltd.  The National Ports Authority is responsible for the safe, effective and efficient economic functioning of the national port system, which it manages in a landlord capacity.  It provides port infrastructure and marine services at the eight commercial seaports in South Africa – Richards Bay, Durban, Saldanha, Cape Town, Port Elizabeth, East London, Mossel Bay and Ngqura.  It operates within a legislative and regulatory environment and is governed by the National Ports Act (Act No. 12 of 2005).  For more information visit www.transnetnationalportsauthority.net.