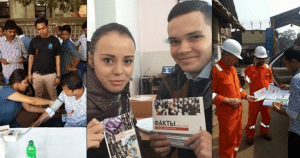 4 Dec 2015 –  Thousands of people have been offered support, information and practical help as unions around the world backed the ITF's call to take action for World AIDS Day 2015 on 1 December.
In India unions organised health camps in several cities where more than 1, 000 people were tested for HIV/AIDS and given health advice. In Togo and elsewhere in Africa voluntary counselling and testing was given to truck drivers at the roadside along major highways.
The Indonesian railway workers' union met with management to consider an expanded HIV/AIDS prevention programme for railway workers and their families. For the first time the AMOSUP union hospital in Cebu, Philippines, introduced voluntary counselling and testing for pregnant women to tackle mother to child transmission.
In Puerto Rico, the seafarers' centre distributed education materials and condoms among seafarers on cruise ships. ITF unions globally handed-out at least 50, 000 condoms.
ITF HIV/AIDS programme co-ordinator Dr Asif Altaf said the aim of the campaign is simple: "There were two million new HIV infections in 2014: our goal is zero new infections. Prevention, education and partnership are key. Unions are working year round to combat HIV/AIDS and support positive transport workers and their families. World AIDS Day is a great opportunity for them to promote education and awareness to help workers prevent infection – and to end the stigma and discrimination too often associated with the disease."
Find out more about unions' WAD activities at the ITF campaign page.