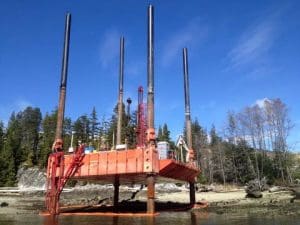 Fugro is commencing site characterisation work in West Cumbria, UK under a major contract awarded by UK nuclear company NuGen. The contract is worth approximately £20 million.
The programme will provide vital information to support the design and layout, licensing, planning applications and other consents required to build a new nuclear power station at Moorside. The new generation facility will be capable of generating up to 3.6GW – approximately seven percent of the UK's electricity requirements.
The onshore work will involve geological site investigations, consisting of over 300 boreholes and laboratory analyses, 2D seismic surveys, topographical surveys and groundwater monitoring. Fugro will also conduct marine geotechnical drilling of 30 boreholes, sampling and testing, including wireline geophysics, as well as marine bathymetric surveys; 2D seismic and unexploded ordnance (UXO) surveys. The onshore investigation is the first stage of the project, which continues until summer 2016; the majority of the offshore element is scheduled to begin in spring 2016.
Esa Heiskanen, NuGen's Chief Project Officer and Deputy CEO, said, "The start of the site characterisation work marks an important stage for NuGen and the Moorside project. The data we receive as a result of the work will be vital in developing the project."
Ian Judge, Fugro's Project Director, commented, "We are delighted to be expanding our relationship with NuGen with the award of this site characterisation contract. It is one of the largest UK investigation contracts to be awarded as a single package and it recognises Fugro's standing as an independent service provider as well as our unique ability to deliver integrated data for major developments such as the Moorside project."
ABOUT FUGRO
Fugro creates value by acquiring and interpreting earth and engineering data and providing associated consulting services to support clients with their design and construction of infrastructure and buildings. Fugro also supports clients with the installation, repair and maintenance of their subsea infrastructure. Fugro is an independent service provider.
Fugro works around the globe, predominantly in energy and infrastructure markets offshore and onshore employing approximately 12, 500 employees in over seventy countries. In 2014 Fugro's revenue amounted to EUR 2.6 billion; Fugro is listed on Euronext Amsterdam.
ABOUT NUGEN AND MOORSIDE
NuGen is a UK nuclear company owned by Toshiba and ENGIE (formerly GDF SUEZ).
When fully operational, the planned Moorside reactors will have a combined capacity of up to 3.6 GW, enough to power up to six million homes. The first of the three Westinghouse AP1000® reactors is targeted to come online in 2024. NuGen's Moorside project will help support the UK Government's low carbon and energy security objectives at a time when existing power plants are retiring and low-carbon generation is required to meet national and international commitments.
Construction of the new reactors will create thousands of skilled jobs over the next decade, and the project is expected to significantly boost the local, regional and national economies, with a large portion of the development and construction programmes accessible to the UK supply chain.
AP1000 is a trademark of Westinghouse Electric Company LLC. All rights reserved.