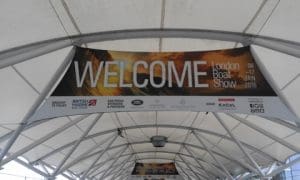 As the iconic 62nd London Boat Show drew to a close yesterday (Sunday 17 January), 90, 328 people had been welcomed to ExCeL London to experience the very best that the boating industry has to offer. The Show saw over 132 boats make their debut, including the largest ever boat to be globally launched at the Show – a 40.05m Sunseeker 131 Yacht which was berthed out on the dockside.
Strong sales have been reported throughout the duration of the Show, with many companies reporting an increase on last year's figures including numerous multi-million pound deals. There were close to 400 boats showcased during the ten-day event with several new brands such as Adidas Sailing and Bainbridge International exhibiting at the Show for the very first time.
Over 1, 000 beginners and experienced skippers got out on the Mediterranean Bay – a purpose-built pool spanning 500sqm and overlooked by a Mediterranean-themed village. Hosting a variety of activities, including Seabobbing, water walking and Stand Up Paddleboarding, it provided visitors with the opportunity to get out on the water for free and brush up on their essential boating knowledge.
The Show's very own Theatre welcomed a line-up of some of the world's leading boating experts talking on the latest technology and innovations. Alec Wilkinson, one of Britain's top live sailing presenters, hosted daily panel discussions with guests including America's Cup commentator, Tucker Thompson, world-class Olympic sailor, Sir Ben Ainslie, Land Rover BAR's Fitness Coach, Ben Williams, Volvo Ocean Race winner, Ian Walker, and record-breaking female sailor, Dee Caffari MBE.
The Show was opened in style with Made in Chelsea star, model and sailing enthusiast, Lucy Watson, cutting the ribbon during a lavish ceremony on the first day. Other celebrities made appearances during the ten days with Adrian Chiles, Hugh Bonneville, The Overtones and Floella Benjamin all being spotted browsing the aisles. There were award ceremonies galore and a competition for the next generation of budding superyacht designers took place live on the Show floor hosted by Superyacht UK.
Murray Ellis, Managing Director at British Marine Boat Shows, said: "The quality of business achieved coupled with the fantastic attractions on offer and celebrity faces seen, has resulted in the 62nd London Boat Show being yet another successful Show. At the heart of one of the world's most pioneering capital cities, we have showcased the rich heritage of both British and international boating, latest marine innovations and designs to a global audience.
Exhibitors have reported excellent sales this year with visitors having the opportunity to purchase from a variety of products from inflatable Stand Up Paddleboards and foldaway sailing boats to a multi-million pound superyacht and everything in between. The atmosphere has been exuberant, once again confirming the London Boat Show as one of the top ten Boat Shows in the world."
Exhibitor quotes from the 2016 London Boat Show:
Sean Robertson, Sales Director at Sunseeker,  commented: "This has been our most successful London Boat Show for a number of years, with confirmed boat orders worth £40m of retail sales (exc. tax) and several more sales in the pipeline.  It's very good news for the sector because it's the first Show of the year and it is an excellent barometer of sales to come in 2016.  We were especially delighted to debut the eagerly anticipated 131 Yacht this year, which is the largest ever to be launched at the London Boat Show in history.
"It was a real pleasure to welcome so many visitors and special guests to the stand with clients and prospects at a record high – exceeding even 2008 figures.  This is a reflection of the most up-to-date product range across 50-150 feet, a first class and truly global dealer network offering sales and after-sales support, and an iconic British brand that customers are proud to be associated with. We are looking forward to launching three new boat models over the year – the 116 and 95 Yachts in the spring and the Manhattan 52 in the summer – for which we've already received numerous confirmed retail orders.
"Overall, it's very encouraging to see so much confidence in the Sunseeker brand and our exceptional yachts, and with our current 2016 forward order book up 55% on the same period in 2015 we are excited about the year ahead."
Ben Metcalfe, Managing Director at Landau UK,  commented: "London Boat Show has been very positive for us, with some great cash sales at the Show as well as a number of sales enquiries which the Landau team will be following up on after the Show. The Mediterranean Bay proved a great success and most of all provided a fun atmosphere!
"We look forward to next year but also Southampton Boat Show, where we hope to make our stand even more interactive for customers and a fun experience for all."
Kiran Haslam, Marketing Director at Princess Yachts,  commented: "We are very pleased with the outcome of another fantastic London Boat Show.  This event continues to be an important date in our calendar.  And thanks to working collaboratively with British Marine Boat Shows we have started 2016 in great shape."
Clive Hancock, Technical Manager at A Glaze,  said: "We've had an amazing Show with a consistent buzz throughout the week. Each day at the Show we have had more business this year in comparison to the last. We shall of course be returning in 2017 supporting this important Show."
John Arnold, UK Sales Manager at Torqeedo,  said: "Business has been great at this year's London Boat Show. We launched a range of innovative new electric engines to the UK market, which included the new Deep Blue Saildrive and Cruise POD drives – which have been greatly received at the Show. It was also great to see TorqBoard – a Torqeedo-powered, motorised Stand Up Paddleboard, which was launched at the Show – on display at the Mediterranean Bay as well as on our stand. We look forward to following up on some strong business leads and an exciting year ahead."
Paul Botterill, Managing Director of Barton Marine,  added: "This year's London Boat Show was very positive for Barton Marine. It was the perfect platform for us to launch our new products to the UK market, including our new Victory Heritage wooden blocks, the new clear wear pads, a high-end line of Marine Hatches and our new furler design. We are delighted to report strong sales and enquiries at the Show and our competition to win a £100 product voucher has been a great success! We look forward to exhibiting next year."
Greg Houlston, General Manager at Broom Marine Services,  commented: "This has been our first time attending the Show as a standalone brand, and we have been delighted with both the positive feedback received and the number of sales achieved. We have received strong enquiries and orders for service work and completed product sales for our Volvo Penta, Raymarine and Fusion offerings, along with a bulk order for the recently launched Engineguard security device for outboards, and boat demonstrations booked for Seakeeper boat stabilisation. We now look forward to the remainder of 2016 with optimism and returning to the London Boat Show in 2017."
Peter Thomas, Managing Director at Cornish Crabbers,  said: "We're really pleased with the interest we've had from visitors at the Show this year – even more so after our radio interview on BBC Cornwall earlier in the week.  Sales have been up on last year and the quality of visitors is undoubtable. We've sold six boats at the Show including two of our new 21 foot Shrimpers."
Harald Charters, General Manager of General Ecology,  remarked: "I am a strong advocate of British Marine Boat Shows as its Shows are a crucial element in the growth and awareness of our business. Without the Shows our audience wouldn't know us and our products well. We have been attending both Southampton and London Boat Shows for 20 years and we will keep returning. Our company has been brought by the US and I run the European Division. I am highly impressed with the success of the company via the Show and have already committed to attending both forthcoming Boat Shows."