A contract has been signed by EPN, the Nicaraguan Port Authority, and INTUR, the Nicaraguan Tourist Agency, with the Damen Shipyards Group for the delivery of a CSD350 Cutter Suction Dredger. The dredger is to be operated by EPN on a project to create and maintain a 200 km inland channel running along a section of Nicaragua's Caribbean coast.
This is the first Damen CSD to be purchased by INTUR, and is designed for heavy-duty operations with a production capacity of 2000 mᶟ/h to a depth of nine metres. It will be operated by Empresa Portuaria Nacional (EPN), the national port authority, which already manages a number of Damen vessels and has a close relationship with INTUR. The CSD350 will be the fourth vessel delivered to EPN over the past year; with a Stan Tug 2608, another CSD350 and a CSD250 all recently beginning operations in Nicaragua.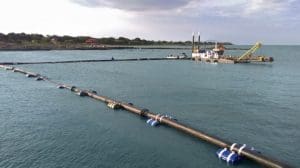 The CSD350 will be deployed on an ambitious project to create a continuous 200 km channel running parallel to the sea between Bluefields and Bilwi, connecting the north and the south of the country. The existing waterway is a mix of rivers, lakes and some manmade channels running through lagoons and mangrove swamps. However, the rivers and lakes require dredging and the channels need to be completed. In addition, midway along the channel near Karawala, a completely new waterway of around 22 km will be created to link the northern and southern sections. Once completed, the new channel will enable larger and more comfortable boats to use the route and so encourage the local tourism industry.
The coast is renowned for its beauty and biodiversity, and a series of environmental studies have been undertaken to ensure minimal impact on the local plants and wildlife. An environmental management plan has been created for the project and it will be overseen by a government management team to ensure full compliance.  As an example of the care being taken over conservation of the environment, the dredging spoil will be used to construct a series of islands which will then be planted with trees to provide additional natural habitats. Once the channel has been dredged along its full length by the new CSD350, the dredger will be used to maintain it.
The vessel is scheduled to arrive in Nicaragua at the beginning of April, equipped with all the necessary equipment, including a 1000 metre pipeline, to operate in this very remote area.
"We're very pleased to be supplying another Cutter Suction Dredger to Nicaragua, " said Pieter Becker,
Damen Sales Manager for Central America. "The close cooperation between INTUR and EPN has been a major factor in this success. Built to the same specification as the other CSDs in the EPN fleet, the dredger will provide a proven and cost-effective solution to INTUR's dredging requirements."
Damen Shipyards Group
Damen Shipyards Group operates 32 shipbuilding and repair yards, employing 9, 000 people worldwide. Damen has delivered more than 5, 000 vessels in more than 100 countries and delivers some 160 vessels annually to customers worldwide. Based on its unique, standardised ship-design concept Damen is able to guarantee consistent quality.
Damen's focus on standardisation, modular construction and keeping vessels in stock leads to short delivery times, low 'total cost of ownership', high resale values and reliable performance. Furthermore, Damen vessels are based on thorough R&D and proven technology.
Damen offers a wide range of products, including tugs, workboats, naval and patrol vessels, high speed craft, cargo vessels, dredgers, vessels for the offshore industry, ferries, pontoons and superyachts.
For nearly all vessel types Damen offers a broad range of services, including maintenance, spare parts delivery, training and the transfer of (shipbuilding) know-how. Damen also offers a variety of marine components, such as nozzles, rudders, anchors, anchor chains and steel works.
In addition to ship design and shipbuilding, Damen Shiprepair & Conversion has a worldwide network of 15 repair and conversion yards with dry docks ranging up to 420 x 80 metres. Conversion projects range from adapting vessels to today's requirements and regulations to the complete conversion of large offshore structures. DSC completes around 1, 500 repair and maintenance jobs annually.