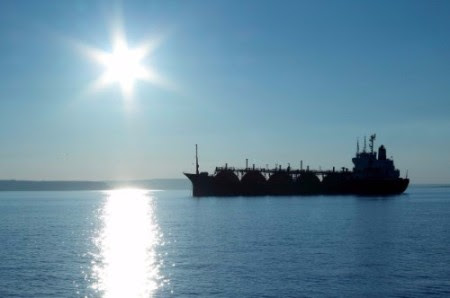 AkzoNobel has announced the issue of more than 126, 000 carbon credits worth more than $500, 000 – the first to be awarded under the company's landmark scheme for the shipping industry – which was developed in conjunction with the Gold Standard Foundation and the Fremco Group.
Launched in 2014, the award-winning program rewards ship owners who convert existing vessels from a biocidal antifouling to a premium, biocide-free advanced hull coating such as AkzoNobel's Intersleek –part of its International® brand – which is proven to reduce fuel consumption and CO2 emissions.
On average, each of the 16 vessels included in the first issue achieved savings of just over 1, 250 tons of fuel and 4, 000 tons of CO2 per year, resulting in the award of 126, 785 credits by the Gold Standard Foundation. That number is expected to increase as more vessels continue to enrol in the scheme.
"This is a tremendous moment both for AkzoNobel and the customers involved, " said Oscar Wezenbeek, Managing Director of AkzoNobel's Marine Coatings business. "With the carbon credits program, we are demonstrating leadership and innovation in driving sustainability."
Based on the average 10 percent CO2 savings recorded in this first carbon credits issue, the full fleet of over 4, 500 vessels currently using Intersleek have already achieved total annual reductions in carbon emissions of around 17 million tons of CO2. That figure represents around 1.5 percent of the global emissions from shipping, as estimated by the 3rd IMO Greenhouse Gas Study.
"We have long known that our Intersleek coatings can contribute to reducing carbon emissions from the shipping industry, " added Trevor Solomon, Intersleek Business Manager and manager of the carbon credits program. "With the award of the first carbon credits, we now have independent validation and verification of those fuel and emission savings by respected auditors and the Gold Standard Foundation."
The issue of the carbon credits followed a rigorous assessment of the scheme, which included validation and verification of the 16 participating vessels' fuel consumption data by an independent auditor, RINA Services and the Gold Standard Foundation, in line with the United Nations Framework Convention on Climate Change (UNFCCC) Clean Development Mechanism. 
AkzoNobel is currently in discussions with the enrolled ship owners regarding sale and offsetting options for their credits.
Alastair Fischbacher, CEO, the Sustainable Shipping Initiative said:
"Climate change is a critical global challenge, and one the shipping industry must play its role in responsibly contributing to the global CO2 reduction target.  Central to achieving this is incentivising ship owners by demonstrating that a sustainable approach to business is also a more profitable one.  AkzoNobel's carbon credits methodology does just that, and is an example of how financial mechanisms, combined with real innovation can play a key role in creating a sustainable future for shipping."
About AkzoNobel
AkzoNobel creates everyday essentials to make people's lives more liveable and inspiring. As a leading global paints and coatings company and a major producer of specialty chemicals, we supply essential ingredients, essential protection and essential color to industries and consumers worldwide. Backed by a pioneering heritage, our innovative products and sustainable technologies are designed to meet the growing demands of our fast-changing planet, while making life easier. Headquartered in Amsterdam, the Netherlands, we have approximately 45, 000 people in around 80 countries, while our portfolio includes well-known brands such as Dulux, Sikkens, International, Interpon and Eka. Consistently ranked as a leader in sustainability, we are dedicated to energizing cities and communities while creating a protected, colorful world where life is improved by what we do.