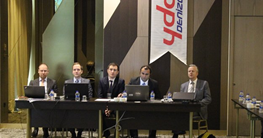 (Birkeroed, Denmark – March 21, 2016) – (Marine NewsWire) Danelec Marine has been holding a series of educational seminars at strategic locations around the world to brief shipping company executives on the new ECDIS standards which come into effect next year.
The first seminar, held in Nanjing City, China, was attended by 35 shipowner representatives. It was followed by a similar program in Istanbul, Turkey, which brought together nearly 40 shipowner executives. The company plans to hold additional seminars in other key cities in coming months.
Danelec Marine presented information on the new IEC 61174 Ed. 4, IHO 52 and IHO 64 standards and the pathway to full compliance using Danelec's new ECDIS technology. Hans Ottosen, CEO of Danelec Marine, said, "All installed ECDIS products must comply with the new standards by August 2017. There will be no provisions for 'grandfathering' existing ECDIS products already deployed. These will have to be upgraded, if possible, or replaced with compliant products."
Ottosen noted that Danelec Marine has launched a free upgrade program that will enable ships with existing Danelec ECDIS products to become compliant with the IEC and IHO provisions. The company is currently replacing the first-generation Danelec DM800 ECDIS with the new type-approved DM800 ECDIS G2 hardware and V2 software. The Danelec DM800 ECDIS G2 platform has been designed to enable the ship's crew to upgrade to the V3 software, which will be fully compliant with the new standards. The V3 software will be released by the end of the second quarter, according to Ottosen.
Danelec Marine is also providing a free-of-charge updated training for navigators already holding a type-specific certificate on previous versions of DM800 ECDIS.
Introduced in 2015, the Danelec DM800 ECDIS G2 incorporates advanced features, including a new Linux-based computer platform, new application software, an intuitive easy-to-learn user interface, industry-leading cartography solutions, ruggedized low-power LED display monitors and Danelec's exclusive SoftWare Advanced Protection (SWAP) technology for fast and easy shipboard service.
About Danelec Marine | Headquartered in Denmark, Danelec Marine is a leading supplier of Voyage Data Recorders (VDRs) and Electronic Chart Display and Information Systems (ECDIS). Danelec Marine was one of the first companies to bring to market VDRs and Simplified VDRs (S-VDRs) to meet the original IMO carriage requirements. More than 6, 000 vessels today are equipped with a VDR or S-VDR designed and manufactured by Danelec Marine. The company has service facilities with factory-trained personnel in more than 50 countries and Certified Service Centers at strategic locations worldwide. To learn more about the Danelec difference, visit www.danelec-marine.com.