The 2015 RINA – Lloyd's Register Maritime Safety Award has been shared, in recognition of two significant contributions to the maritime industry. Barry Deakin has been recognised for his lifetime contribution to improving the safety of small craft, while Griffon Hoverworks together with the Hovercraft Manufacturers' Association are recognised for their work in creating a dedicated Code of Practice and a regulatory process for the construction and certification of small hovercraft.  The Winners were announced at the Institution's 2016 Annual Dinner.
Barry Deakin
For nearly four decades, Barry Deakin has carried out research into small craft of all types.
His work in comparing the level of safety afforded by the monohull and multihull stability criteria of the IMO Code of Safety for High-Speed Craft led to a new stability criterion relating the incidence of capsize to the size of the waves in relation to the vessel.
His work into the development and presentation of simplified loading guidance for fishing vessels has the potential to have a significant impact on the high fatality rate amongst UK fishermen.
Following a series of casualties in the early 1980s Barry Deakin led much of the extensive research into stability requirements for sailing vessels. This work led directly to the Small Commercial Vessel Code of Safety for Sailing Vessels.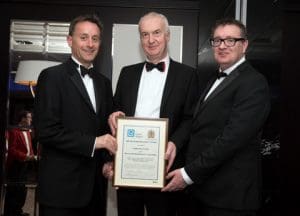 Following the loss of the 'Marchioness' in 1989, Barry led research into the behaviour of small motor vessels when involved in collision with a larger vessel.
RINA Chief Executive, Trevor Blakeley, writes: "Barry Deakin's work is notable because it encompasses both original theoretical research and the identification of measures that will enable the results to be put into practice. By working in a pragmatic way with key stakeholders he has ensured that his work has made a lasting and significant contribution to the safety of small craft."
Griffon Hoverworks and the Hovercraft Manufacturers' Association
Prior to the introduction of the Hovercraft Code, existing standards were developed for large vessels operating internationally.  Small hovercraft could not really meet these standards and, as such, the hovercraft sector in the UK has been restricted to craft operating mainly in the pleasure and military sectors.
This Code now legally permits the commercial use of small hovercraft where their unique operating abilities will be of great benefit. The development of the Code will drive forward safety standards on small hovercraft and promote their technological development.  Although a UK Code, other countries have already expressed interest in using the standards for their own domestic market.
RINA Chief Executive, Trevor Blakeley, writes: "Without direct benefit, the Hovercraft Manufacturers Association and Griffon Hoverwork have shared their detailed technical knowledge and experience for the good of the wider industry.  Their work, which will lead to the improvement of safety in hovercraft, makes them worthy recipients of the Maritime Safety Award."
About the Award
The Maritime Safety Award is sponsored by the Royal Institution of Naval Architects and Lloyd's Register, and is presented annually to an individual or organisation which have made a significant, technological contribution to the improvement of safety at sea or the protection of the marine environment.  Such contribution can have been made either by a specific activity or over a period of time.  Individuals and organisations are nominated for this award by members of the global maritime industry.  The Award is judged by a panel of members of the Institution and Lloyd's Register, and is announced at the Institution's Annual Dinner.
Nominations are now invited for the 2016 Maritime Innovation Award, details of which can be found at www.rina.org.uk/MaritimeSafetyAward.
About The Royal Institution of Naval Architects
Founded in 1860 in London to "…advance the art and science of ship design", today the Royal Institution of Naval Architects is an internationally renowned professional institution whose members are involved at all levels in the design, construction, repair and operation of marine vessels and structures in over 90 countries. RINA members are widely represented at all levels in the maritime industry, universities and colleges, and maritime organisations.
Membership of RINA is open to those who are professionally qualified in naval architecture or marine technology, or who are involved or interested in the maritime industry.  Membership provides an internationally recognised professional qualification which demonstrates the achievement and commitment to the highest standards of professional competence and integrity. RINA members enjoy a wide range of benefits and services, including advice on education, training and professional development.
RINA also publishes a range of technical journals, and organises an extensive programme of international conferences and training courses covering all aspects of naval architecture and maritime technology.
The Institution is an NGO member of the International Maritime Organisation, a member of the International Standards Organisation and a member of the Confederation of European Maritime Technical Societies, where is contributes its collective expertise to the work of those organisations.
About Lloyd's Register
Lloyd's Register works around the world to assess and certify ships, systems and facilities to help improve quality and increase safety. We work with ship yards, owners and operators to provide innovative, value-added solutions that help improve performance and protect the environment throughout the design, construction and operation of ships.
Through the early recognition of potential risks and by helping clients to manage them effectively, improvements to safety and performance can be achieved. Survey feedback helps to ensure that our Rules and Regulations are calibrated against actual performance, and in-service risks are addressed through services such as ISM certification, operational risk assessments and our 24-hour ship emergency response service, SERS.
Our range of environmental products and services helps ship operators not only meet legislative requirements but also implement best practice solutions for managing environmental risks. Besides undertaking ship energy audits, and providing fuel technology services, we help operators to implement ISO 140001 certification. We can help operators to develop a safe, practical strategy to reduce the risks associated with ballast water management and to comply with national and IMO regulations. By undertaking a gap analysis (HEGA), we can help implement best practice for managing the human element.
Because life matters, safety is not negotiable. Standards have to be applied consistently. Lloyd's Register has the confidence and experience to do this. We also have the priceless advantage of independence. We respond to change and lead the developments that help make lives safer and preserve the environment. For Lloyd's Register, life matters.