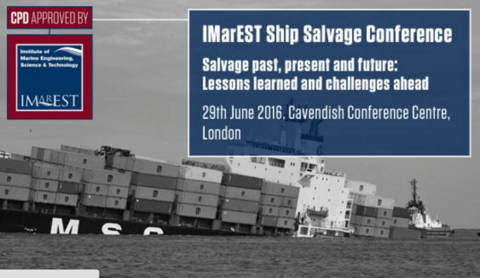 IMarEST Ship Salvage Conference 
29 June 2016, Cavendish Conference Centre, London
We are pleased to announce Simon Rickaby, Past President of IMarEST will be chairing this special one-day conference. The early bird discount has been extended until 3rd June 2016.This conference will deliver:
Session 1: The Amoco Cadiz
Recounting the chain of events leading up to its sinking and salvage.
Comparing contemporary regulations, safety measures and salvage techniques to those at the time of Cadiz.
Review of lessons learned and their impact on subsequent salvage operations.
Keynote Speaker
Peter Meyer, formerly of Bugsier, involved in the salvage of the Amoco Cadiz
Session 2: Salvaging ultra large container ships
A review of equipment and techniques required to salvage such large vessels
Discussion on current regulations and safety procedures; are they fit for purpose?
What are the potential implications for vessel owners? Reputational damage? Insurance?
Keynote Speaker
Dirk Jan Osinga, Head of Salvage Consulting, Braemar
* Please note that the conference will now take place at the Cavendish Conference Centre and not the ICO Conference Centre as previously stated.