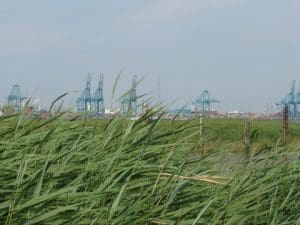 04 July 2016 – The ESPO Award 2016 is entering into its 8th Edition. The theme for the 8th ESPO Award on Societal Integration of Ports is "Nature in Ports". In general, European ports are part of very valuable ecosystems, both on the land and waterside. Many port areas are also neighbouring Natura 2000 areas or even consist of Natura 2000 areas. Port authorities in Europe invest a lot of time and efforts in maintaining and improving the quality of the nature in the port. The award will go to the port authority that succeeds the best in safeguarding and further upgrading the nature and ecosystem (on land and/or waterside) in the port area and would also reward ports that succeed in opening up these areas for the people living around the port and let them enjoy that nature, notwithstanding ISPS restrictions.
ESPO members could send their applications until last Friday. The following eleven port authorities have been applying for the ESPO award 2016: Antwerp Port Authority, Dunkirk-Port, Guadeloupe Port Caraïbes, HAROPA / Port of Le Havre Authority, Bremenports GmbH & Co. KG, Freeport of Riga Authority, Port of Rotterdam, Port of Cartagena, Port Authority of Huelva, Port Authority of Mellila, Associated British Ports.
As every year, the winner will be selected by an independent jury of seven international experts. This year's jury will be chaired by former President of the European Parliament and TEN-T coordinator Pat Cox, who will abstain from voting.
The 8th ESPO Award will be officially handed out during an Award Ceremony and Port Night, which will take place on 9 November 2016 in Brussels.