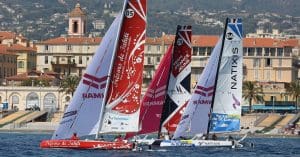 What you must remember from this 2016 edition :
.Lorina Limonade – Golfe du Morbihan master victory
Six different racing day winners
102 race starts
Tahiti and Oman to come back next year.
Young and Amateurs rankings… A glance on the top three
They have flown over their Tour from Dunkirk to Nice. Team Lorina Limonade – Golfe du Morbihan is the master winner of this 2016 TDFV. The young squad of friends lead my Matthieu Salomon and Quentin Delapierre, who finished First Amateur last year and 4th overall, won 10 of the 17 racing days (nine coastal and eight stadium racing) , with a total of 64 point lead.« We will need some time to realise that we have won the Tour, but we are already super stoked. What we have done is impressive in terms of results. We were very focused to keep sailing the same way, race after race, day after day », said Kevin Peponnet.
Only six teams out of 24 have won a racing day : Lorina Limonade Golfe du Morbihan, Crédit Mutuel de Bretagne, Trésors de Tahiti, Team Coved and Helvetia Blue by Normandy Elite Team. And surprisingly, second place overall Grandeur Nature Vérandas, has not won any. They have just been consistent with eight podium places.
Looking at the 2016 TDFV numbers, Race Director Christophe Gaumont said : « Race committee gave the starting signal 102 times. There has been 61 qualifying races, eight grand finals, with 59 black flag (when a boat is disqualified for crossing the start line early) ».
2016 Tour is over and some teams are already looking ahead, like Oman Airports by Oman Sail who is planning to come back next year, maybe with two Diam 24 and more Omani crew, and like Trésors de Tahiti. « The Tahiti campaign is a three year project with the objective of winning the Tour while training young tahitian sailors  », explains helmsman Pierre Pennec.« Our partners are happy with our results this year so I hope that we will keep attracting more partners for the next two years. It's such a beautiful campaign, sportively and humanly »
Young and Amateur category saw the victory of Team France Jeune, after a fierce battle against Team Lorina Mojito, Golfe du Morbihan. The two teams are made of french young guns of sailing who have had specific training and support of big team organisations. Unlike third place Natixis – YC Saint-Lunaire, who is the first real amateur campaign with low budget, yacht-club and corinthian spirit. « Of course we would have like to win in Young and Amateur Rankings, but we are not disppointed with our third place, since the two boats in front of us are not real amateurs », said skipper Benoit Champanhac. « They are very good, well supported, with coach, performance analysis…I think we will see them on other top boats and sailing events in the next 5 or 10 years. Seing them in first and second positions is logical and to be honnest I would be worried for them is they were not because they've been sailing since at top level since they are kids and they are the future of french sailing, whereas our crew all have full-time jobs and only sail on week-ends and holidays ».
Tour de France à la Voile will be back next year on Diam 24 trimarans for another tour along France coastline. And for now some of the teams will wrap up the sailing season with other Diam 24 events like the Grand Prix de Port la Forêt in August.