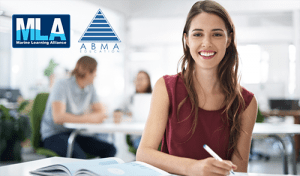 An innovative new partnership has been announced between the IMarEST's distance learning arm, MLA, and ABMA Education, an organisation that awards vocational qualifications.
They will work together to increase the career development opportunities for students of shipping and logistics diplomas who aspire to take their education to the next level. MLA is able to offer Plymouth University degrees in maritime subjects to students studying anywhere in the world, which matches perfectly the existing provision of ABMA Education diplomas in Shipping and Logistics. These courses enable thousands of students in a host of countries to study an industry relevant course to develop their career.
The joint working between ABMA Education and MLA links the two methods of study to provide an additional route of progression for existing students into distance learning higher education. At a time when the maritime industry is desperate for properly qualified personnel, this joint statement of a clear career progression path is extremely good news.
Any students enrolled on these courses will automatically be entitled to complimentary student membership of the IMarEST and all of the benefits of access to information, status and networking which this confers.
Enabling students from any background and any geographical location to study and achieve their full potential regardless of their background is of great importance to both MLA and ABMA Education and this is what unites them in their approach.
About Marine Learning Alliance
MLA is a distance learning company specialising in degree education in hydrography for professionals, sustainable maritime operations and meteorology/oceanography.
It is a wholly owned subsidiary of the Institute of Marine Engineering, Science and Technology (IMarEST).  MLA is the parent company of the Hydrographic Academy.
Our aim is to support the delivery of world-class education and bespoke training modules in marine related subjects, particularly hydrography. Each student has a personal academic tutor.
Our Total learning platform is a proven, successful and flexible way of bringing the UK's leading maritime university to the workplace. Designed specifically to meet the needs of marine industry employers and individuals, we offer a unique way to study on a part-time basis whilst on-board ship, in the office, or at home.
Through this application students can reach the full suite of learning materials including videos, tutorials, assessments, transcripts and on-line library.
This app allows Marine Learning Alliance students to access and download their teaching and learning materials ensuring they can complete their studies anywhere in the world.
About IMarEST
The IMarEST is an international membership body and learned society that brings marine engineers, scientists and technologists together into one professional body. The largest marine organisation of its kind, it spans 128 countries and works to promote the scientific development of marine disciplines, providing opportunities for the exchange of ideas and practices and upholding the status, standards and expertise of marine professionals worldwide.
Members are able to gain professional registration (such as Technician, Incorporated, Registered or Chartered status). Education is supported through the MLA, a subsidiary of the IMarEST Group that delivers distance e-learning.
The IMarEST is an NGO with consultative status at the International Maritime Organization (IMO), observer status at the Intergovernmental Oceanographic Commission, International Hydrographic Organization, the London Convention/London Protocol (LC/LP) and the Joint Group of Experts on the Scientific Aspects of Marine Environmental Protection (GESAMP) and it has special consultative status with the Economic and Social Council of the United Nations (ECOSOC).