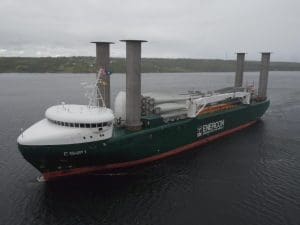 The International Windship Association (IWSA) Wind Propulsion Innovation Awards were created to honour the pioneers of technological innovation in wind propulsion striving to support the shipping industry to decarbonise whilst maintaining commercial and operational performance. The IWSA Awards sought to spotlight both individuals and companies making a significant difference in advancing wind propulsion in the maritime sector.
In July some 40 nominations were received at IWSA HQ. These were assessed and shortlisted by a panel of experts drawn from across the shipping sector. Online votes were invited to encourage a wide audience to increase awareness of this rapidly emerging new industry sector.
As one of the judges summarised: "These awards underline the importance of wind technologies to the shipping industry. It is rewarding to see so many different solutions being developed in so many parts of the world. Shipping comprises multiple ship types working different cargoes and routes, it is necessary to be showcasing all aspects of wind innovation."
Indeed, the Innovation Award was the most hotly contested of the three categories with submissions from a wide range of projects at various stages in the development cycle. The quality and breadth of the 6 shortlisted innovations submitted underline how vibrant, and how much potential, this emerging sector is showing. In a close fought battle UT Windchallenger and Norsepower secured most votes from the judges with E-Ship 1 close behind. The 1500+ online votes edged E-Ship just ahead making this project the winner of inaugural INSB Class sponsored Innovation Award.
The Wind Propulsion Technology End-User Award is to recognise the necessary courage and commitment shown by ship owners to support the development of novel technologies. Windship pioneers need to collaborate with ship owners and operators to test new technologies. Enercon's long term commitment to supporting development and operation of the flettner rotors on the E-Ship 1 is reflected in their winning of this Award. Both Bore and SolarSailor were recognised for their contributions to accelerating the development of wind propulsion technologies and Fair Transport for their part in reviving traditional sail cargo.
Research is necessary for this emerging industry to de-risk and understand the impacts of different wind solutions on various vessel types. Norsepower generously sponsored the Research Award, acknowledging of the critical role academia plays in advancing commercial solutions. The Award was won by the University of South Pacific's Sustainable Sea Transport Research Programme in recognition of the work they have done highlighting the opportunities for windships as a means of creating greater resilience in small island communities – the people facing most immediate risk from climate change.
Over 4000 votes were cast in the inaugural IWSA Wind Propulsion Awards.
IWSA members selected the initiator of the dynarig system Wilhelm Proells, the visionary German shipping engineer who devised the automated square-rig system in the 1960s as most deserving of the Lifetime Achievement Award.
Gavin Allwright, IWSA Secretary General said: "Congratulations to all the windship pioneers who participated in this inaugural Award programme. It is gratifying to know that such good progress is being made and that both the industry and wider public appreciate the potential from this renewable energy."
The 2016 Awards ceremony was held in the new A5 Green Propulsion Hall at SMM 2016 in Hamburg.
AWARD SHORTLIST PANELLISTS
Panel of industry experts, wind propulsion specialists and researchers including;
Alistair Fischbacher – CEO, Sustainable Shipping Initiative,
Dr. Pierre C Sames – DNV GL,
Catherine Austin – Editor – Shipping Efficiency Review,
Craig Eason – Deputy Editor, Lloyds List,
Katharine Palmer – Lloyd's Register Marine,
Gavin Lipsith – Editor, the Motorship,
Dimitris Argyos – BG Group,
Gary A. Mc Intyre, J.Lauritzen A/S,
Dr. Jasper Faber – CE Delft,
Dr. Michael Traut – Tyndall Centre – Manchester University,
Capt. Michael Vahs– Emden Leer University,
Dr. Nishatabbas Rehmatulla, UCL Energy Institute.
Prof. Orestis Schinas, Hamburg School of Business Administration (HSBA),
Prof.  Osman Turan University of Strathclyde,
Peter Schenzle – Wind propulsion specialist,
Sam Kimmins – Sustainable Transport consultant,
Sara Skold – Sustainable Transport consultant.
AWARD SHORTLISTED NOMINEES
Wind Propulsion in Commercial Shipping – Innovation Award
[Sponsored by Class INSB]
Oceanfoil
E-ship1
Smart Green Shipping Alliance
Norsepower Oy Ltd
S@IL project – Ecoliner
UT Windchallenger
Wind Propulsion Technology User Award
[Sponsored by the Sustainable Shipping Initiative]
Enercon – E-ship 1
Bore Shipping – Norsepower Rotors
Solar Sailor – Ocius Technology Ltd – the Rigid Opening Sail
Fair Transport – Traditional Sail Cargo
Wind Propulsion Research Award
[Sponsored by Norsepower Oy Ltd]
Maritime Research Institute Netherlands (M ARIN) team
S@IL project team
University of South Pacific – Sustainable Sea Transport Programme
University College London (UCL) – Energy Institute team
Technical University Delft team
University of Strathclyde team
Special Award : Lifetime Achievement Award
[Sponsored by Hamburg School of Business Administration]
Anton Flettner – Flettner Rotor
Dr. Robert Dane – Ocius Technology Ltd – the Rigid Opening Sail
Capt. Jacques Cousteau – Turbosail
Wilhelm Proelss and Bernd Wagner – Windship Research & Dynarig.
The International Windship Association (IWSA) – www.wind-ship.org
The International Windship Association (IWSA) is a not-for-profit association bringing together technology providers, designers, naval architects, academics and NGO's to facilitate and promote wind propulsion solutions for commercial shipping worldwide. This member driven association aims to bring together all parties in the development of a wind-ship sector to shape industry and government attitudes and policies.