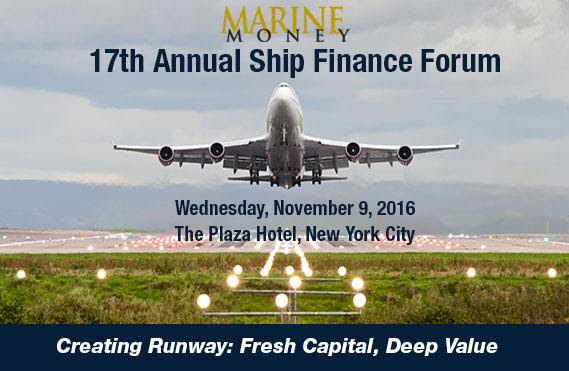 As an added benefit of our upcoming 17th Annual Ship Finance Forum "Creating Runway: Fresh Capital, Deep Value" to be held on Wednesday, November 9th, 2016 at The Plaza Hotel in New York City, we have just added an early morning special breakout session, prior to the conference sessions commencing in the Grand Ballroom just before 9 am, to capitalize on the opportunity for US Institutional Investors. 
SPECIAL EARLY BREAKOUT SESSION
8:00-8:45 AM – Champagne Suite, 4th Floor
Buying Discounted Loans from German Shipping Banks: Capitalizing on the Opportunity for US Institutional Investors
German lenders hold more than one-third of the $400 billion of outstanding shipping loans. But with regulations and capital requirements compelling banks to divest many of these shipping loans, a significant and attractive opportunity has developed for investors, shipowners and lenders to buy and refinance these discounted loans. In this special breakout session, a leading shipping market economist will share his outlook for asset price appreciation, followed by partners from market leading, Hamburg and London-based law firm ERG who will provide case studies illustrating the mechanics and economics of this unique investment opportunity. Shipping Economist, TBDBettina Joos, Partner, Ehlermann Rindfleisch GadowStefan Rindfleisch, Partner, Ehlermann Rindfleisch GadowRichard Henderson, Partner, Ehlermann Rindfleisch Gadow The breakout is included with sign-up for the conference, but space in the breakout room is limited compared to the Grand Ballroom main conference space.  for all the details and check back frequently for all the updates. Click the following for a quick link to the agenda  We hope that this will provide you with additional incentive to join us for a perfect 4th quarter business generating opportunity.
Sincerely,
Marine Money International