Athens, Greece, November 1, 2016. Capital Ship Management Corp received yesterday Amver Awards by the U.S. Coast Guard for the vessels M/T 'Miltiadis MII' and M/T 'Apostolos' "in recognition of outstanding dedication to the Automated Mutual-assistance Vessel Rescue System in support of world maritime safety" for 2015. 
Mr. Benjamin M. Strong, Director, Amver Maritime Relations, U.S. Coast Guard commented: "ships from your company joined those from hundreds of nations in providing a worldwide safety network to assist search and rescue coordinators in responding to emergencies at sea."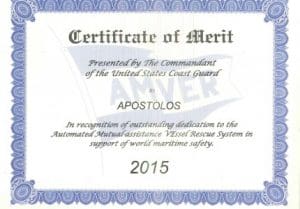 The Awards were presented on Monday, October 31, 2016 at the annual 'Amver Awards' ceremony at the Intercontinental Hotel in Athens, Greece organized by the International Propeller Club of the United States, International Port of Piraeus in cooperation with the United States Coast Guard and the United States Embassy in Greece.