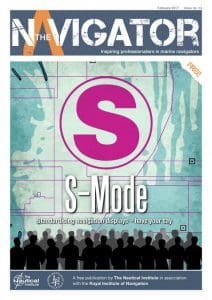 01.02.17 – The latest issue of The Navigator, published this week, hopes to raise awareness of the future of navigation technology. The Nautical Institute is working to introduce a standard setting (S-Mode) for all navigational systems and is inviting seafarers to contribute to a short online survey. S-Mode would help navigators operate and understand navigation functions on all vessels.
The S-Mode survey can be found at www.surveymonkey.com/r/Nav-Funct and the results will be included in a report that will be presented to the IMO.
Emma Ward, Editor of The Navigator, said: "Imagine going to the bridge of a ship as a new arrival and finding that you're unfamiliar with the ECDIS or Radar systems. This could seriously affect competence and safety. That is why The Nautical Institute is joining with other organisations to urge the IMO to establish a single set of S-Mode guidelines, and why the topic of S-Mode is thoroughly explored in this issue of The Navigator."
David Patraiko, Director of Projects for The Nautical Institute, added: "This survey is your chance to shape the future of navigation systems. There are no wrong answers, so please use our survey to tell us what you think. But first, read this issue of The Navigator to learn about the current issues surrounding S-Mode."
The Nautical Institute launched its Navigator Distributor scheme in 2015, encouraging a wider, global distribution of the free, 12-page magazine to as many professional marine navigators as possible. Anyone interested in finding out how their organisation can take part in the scheme should visit: www.nautinst.org/thenavigator
The Navigator is produced by The Nautical Institute with support from the Royal Institute of Navigation. It is available free in printed format or as a pdf, digital magazine or App on The Nautical Institute website. A supporting blog can be found at www.nautinst.org/NavInspire
Printed copies are distributed alongside The Nautical Institute's membership magazine, Seaways, as well as through missions and maritime training establishments. The magazine was named winner of the Investment in People Award at the 2015 Seatrade Awards.
The Nautical Institute is an international representative body for maritime professionals involved in the control of sea-going ships. It provides a wide range of services to enhance the professional standing and knowledge of members who are drawn from all sectors of the maritime world. Founded in 1972, it has over 40 branches world-wide and some 7,000 members in over 120 countries.