The BDI lost 47 points earlier on today and now reads 847; the Geopolitics too are getting conspicuously messy. John Faraclas' daily market brief:
The Capers lead today's fall with nearly 100 points loss and the BCI 2014 now reads 901 – down 96 points – about to break below the 900 point threshold.
The Panamaxes' loss was though minimal – minus two points and the BPI now stands at 1,060 points.
The Supras' BSI lost five points and now stands at 742 points.
No steam no change for the Handies' BHSI remaining the same at 472 points.
A falling and volatile dry market far beyond our level of real worth, that being the 2,200 points as of the end of December 2013. The rest is pure nonsense!
The Wets are not doing well either; the last published BDTI (Dirties) and BCTI (Cleans) stood at 656 – minus three and 563 – plus one respectively!!!
The WTI rose earlier on to US$ 47 plus, but now as these lines are written same dropped down to US$ 46,36.
The Geopolitical situation gets murky and as said in the past, expect mess. All are geared up for the G20 in Hamburg, amid rumours of demos there and an uncertainty of climate issues…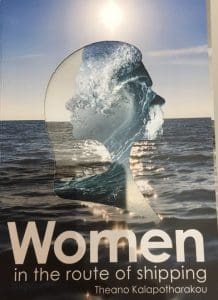 On another tone, "Women in the route of shipping", the fourth book by Theano Kalapotharakou, editor of the ELNAVI,  was launched earlier on tonight in Piraeus on board the historic vessel / floating museum  the "Hellas Liberty" –  which among others depicts the modern grandeur of Greece's maritime power. This was the fourth account or better say encounter of Theano with a group of Greece's shipping maidens!
In this album so to speak, Theano Kalapotharakou "outlines"  thirty women interwoven with the maritime adventure to and for all intents and purposes. Some of these …she-wise sea-wise ladies entered the field either by their own choice or as a result of family and national interest… and also as one can see whilst reading their replies, by chance! The very diverse questions that Theano put forward to each one of them are a great asset for all!
We were more than fortunate and personally I was more than pleased to make it – tipped by fellow journalist Markos Kantzios, given our visit in Greece and very touched, given the fact of knowing quite well most of these very special Women, some of whom come across the course of my life's journey for over 55 years! Indeed 55 years! Add our double appearance / presence with Anny Zade over the last eight and see the multiple…
Brought up in an international shipping family, where women played and continue to play a pivotal role, you can understand my sensitivity and interest on Women in Shipping and you all know the hours writing about them. The multi-role of women in shipping, which I had the sheer luck in my family to witness, added in the account here below in congratulating them, thanking all of them as I have gained a lot from them too.
It is important for all to read this exemplary work of Theano Kalapotharakou. And it is not just me, it's Anny Zade, one of the co-founders and head of Development and Marketing in www.allaboutshipping.co.uk who started her career at Stavros Livanos' Group with the late John Zannaras in the HR… Very impressive also to see that 99 centum of all these Women are WISTA-Hellas members!
I will begin with the immortal Marilena Laskaridis who will always remain one of the beacons for Modern Greek shipping, maritime history and charity; you are always present in our mind and soul for exceptionally preserving in your own way, a very special way, the real Greek shipping values…
I said above about knowing over 55 years a few of them; so here we go with the ever confident Maria Kouliga-Pavlou and the very down to earth Irene S. Daifas – coincidentally both at different times also close neighbours of mine in Falifornia… err Paleon Faliron!
I remember back in 1974 Maria in London how passionate and determined was about shipping. And who doesn't know the success story of her brother Takis who also greatly influenced her shipping career with his passion for the most noble of shipping sports, that of sailing!
Irene S. Daifas represents above all a rare charisma, that of kindness which is also the hidden power of her success in all fields she gets involved. Her father Stavros, another immortal, once confined: "Yianni, Irene has a lot of steam to offer in Shipping…"
I would also mention Marigo Lemos-Patitsa carrying along in her DNA the wise recommendations of her father, another immortal Aegean-sea-man – Aegeopelagitis, the symbol: Leon Lemos, whom my late father knew from the days of the Second World War in Cardiff – met her with him back in 1979! I did also have some amazing encounters with him and his family, as well as his Foundation!
Indeed we follow the days and works, particularly those involved with charity of Marianna V. Vardinogiannis, the heart of "HOPE"; well done!
Kitsa  Ev. Angelakos is another arty sea-maiden and her camera shots have send the message of specialist photography all over Planet Ocean. A respect for old and new vessels and everything to do with the sea! Proud to cover via allaboutshipping her unique event at the opening of her exhibition in London back in April 2015 and beyond – in Kifissia… Well done Kitsa, proud to know you and your work! Moreover, being in the past a member of the Photographic Club at the Anargyrios and Corgiallenios College of Spetsae, I do greatly appreciate your work! Her husband, from the Skinitis clan, Anargyros was more than pleased with the event!
Elpi J. Petrakis, another modest and successful shipping lady. Always feeling very sentimental when we meet her given the fact that with her parents John and Marina we studied together shipping at the City of London Polytechnic as it was then known in the early seventies –  today's Metropolitan University in the heart of the Square Mile in Moorgate! Nice one Elpi!
What a nice surprise to meet after a decade or so Elena  Hari, now Elena Hari-Priftis, one of the most eloquent Greek women and now pleased to see her being involved in Shipping too! Very pleased to see you again under your new cap Elena!
Did I hear you say Maritime Education and Training? Then this call responds and corresponds to Dr. Marina Papaioannou at DNV GL and beyond known to me for nearly two decades and closely watching …err monitoring her course and courses! Excellent job done Marina!
Christiana Prekezes comes next in terms of …time. The most silent and productive shipping lady with a difficult task on the environment. Mrs. Helmepa: Bravo, bravo bravo! We are indebted for your support and transfer of knowledge for the environment in Greece and abroad. A London regular visitor, particularly at the IMO, Christiana makes waves!!!
Maria Angelidou comes next; at the forefront of GAC you are the best female agent on a very challenging and ultra-competitive field! Carry on in the same way and pleased to see you around always with my AKSS alumni Nikos Marmatsouris; excellent!
Lucy Milonaki …holds the most warm and unsolicited smile from all shipping ladies world-wide. The …Flagship to know!  She's one of the hidden forces of IRI and beyond… It costs nothing to smile, and Lucy knows this ingredient for success being in her genes!
…and a bit of family too, from Vrontados Chios, the Motherland and real cradle of Chian shipping and beyond – you  dead well know the reasons, emanates Katerina Konsta, a distant relative too and proud to see her always up and coming! Nice one cousin!
I am sure most of you know of the …longest standing challenges …and standoffs in the Aegean between the Chians and the inhabitants of Lesvos Island; they are Aeolians and we, the Chians, Ionians, yet exceptionally with the Tzoanos' we float together. Vanessa Tzoanos was introduced to me by her father Yiannis, then Secretary-General at the Ministry of Mercantile Marine, known to me from his Chian  style writing and thinking  on Maritime Human Resources back in the seventies with IOBE. I recognised from the first moment the Chian thoughts which made her valuable in the women's shipping family! A great listener, we had nice discussions back in Posidonia 2004 and 2006 and had foreseen her success. …Maritime Law and Order please! Excellent dear Vanessa!
Paillette Palaiologou, the most famous of all blonds – even beyond the Maritime World, send shocking waves in London at a Trinity House Beaujolais night in London in 2015 – the best event Bureau Veritas does "abroad"; even the British like – and love it!!! When met Paulette through another Chian at BV, Lambros Chachalis, and chat her a bit, I come to recognise the coming driving force in Bureau Veritas and shipping all over! We are very proud with Anny Zade witnessing, on many occasions, Paillette's success!!!
Maria Mavroudi the darling on any issue on  all about shipping matters attracting the greatest number of logins from our international viewers, given her multi-task and diverse activities. Met Maria during one of my Shipping Markets presentations in Lloyd's  Register back in 2008 and I was impressed by her questions – I will never forget this, as those questions where the kick-off of her successful first part of her career. She includes …48 hours in our 24 hours day. Did I here you say Marine Insurance? Claims? Game, Set, Match …err Tennis? Hospitality with exceptional exquisite service? Awards? Maria is always there. I won't mention WISTA as she travels all over Planet Ocean – more than any other WISTA lady according to Anny Zade's records! Continue your trip in conquering the Shipping and Maritime Tourism fields! See you at Astypaleas' Kallichoron.
Cypriot Women's Maritime Internationalism has a name: Despina Panagiotou-Theodossiou, holding, amongst her many degrees,  two special ones: an academic one from the Copenhagen Business School, the very powerful Blue MBA, and a physical one: stamina, an ingredient that greatly helps young Despina travel …err circumvent the Globe at …least once per annum… doing business and caring for WISTA-Cyprus  too. Now cool it and let's meet soon to see another of your forthcoming achievements. Anny Zade and myself are very proud of your success! It was great meeting you at the WISTA–Hellas 2012 Posidonia event at the Magri pool Hotel and in these five years your achievements are above normal-time expectations!
In Cyprus during the WISTA-Cyprus 2014 event we also met Yvonne Tsanos who has won many accolades, both business and social ones; being elected Business woman for 2017 in Cyprus is a great achievement; excellent Yvonne!
As Banking and conversely ship finance becomes a very difficult aspect and indeed a rare species these days, a special tamer for this difficult sector is Katerina Stathopoulos,  and always to the point, a very nice discussant; go for it Katerina, it is an honour knowing you!
Mary Pothitou's turn now; always smiling and proper! She greets you in the warmest way! The spearhead of Paralegalism and an expert on shortsea shipping, a mode of maritime carriage / transport with a great potential, and Mary got the message quite early!!!
Alexandra Gana is on all counts the real bunker supplier to all intents and purposes; one of our latest…additions within the female shipping family and both Anny and myself had the chance to know her better during the WISTA-Cyprus and the WISTA International AGM in Limassol …back in 2014! We also hope, and we sure she's gone be elected in the Greek Parliament! You are full of steam and you deserve it. Go for it!!!
Zoe-Lappa Papamatthaiou epitomises discipline, pathos and patience in all …never ending shipping tasks, be it law and insurance for the major group she works for, or social events, particularly those connected with the Propeller Club. The World of shipping, Anny and I look forward to more achievements given your latest success and we wish you to become the first ever woman master of the International Propeller Club Port of Piraeus! Zoe is one of our newest friends and supporters.
Now don't be surprised if you see Konstantina Morou at the top of the shipping pyramid in any way you can imagine. Detail and excellence are the two words she champions and we are sure we will soon hear more good news coming from Konstantina's success! As per the saying – she believes in the maxim: "if you don't do it excellent, don't do it at all."  Blessed by her multi academia degrees and business experience she will not surprise me for her success! Pleased to meet her parents too and talked during the reception and she must be blessed having them as guardian angels!
Angeliki Karayiannis who we constantly read in the news, Rania Patsiopoulou, Maria Theodorou, Polina Ropali, Artemis Papatheodorou, Despina Agyranopoulou –met you on the deck…, Taleen Tchalikian: congrats to all of you too and I am sure you will continue your course to success!
I am more than sure that Elias Kalapotharakos and Stephanos Papandreou and his children, must had one of the best times of their lives attending this event, the great honour for Theano!
More than pleased to have my Uni friend Andreas A. Tsavliris welcome the event, as well as, George Xyradakis, and good to hear short messages from Irene S. Daifas, Katerina Stathopoulou, Angie Hartmann – the WISTA-Hellas president, and Konstantina Morou. Theanos' modest speech was fine too – sentimentality moments to the fore!
Good to see Captain Iakinthi G. Tzanakaki, a ship's master now with Tsakos Columbia in the operations department feeling more than content after receiving a great applause from the guests for her achievements, in the presence also of Captain Panagiotis N. Tsakos – and that counts double!
Last, but not least, we very much value Eleni Tsagas' moderation and excellent presentation of the event.
It was an evening that hundreds of women in shipping come to my mind from all over – up in Scandinavia, down in South Africa to the extreme west of the USA and to the Gulf of Tokyo in the Far East…
Good to see on the deck the Tsavliris', Anna-Maria Monogioudi – former president of WISTA-Hellas, XRTC's Karerina Fitsiou, The Dalacouras', RINA's Spiros Zolotas, Lambros Chachalis, The Trifillis', Prime Petroleum's Irene K. Notias,  Carolina Alkalai from Kallichoron,  the ever smiling Sara Economou, Eleni Economopoulou, Kyriakos Dermatis from Cotzias Intermodal, Moore Stephens' Costas Constantinou,  Seascapes' Iris Liaskonis, Maria Flevarakis, and Athina Chronopoulou, Dimitris Mattheou and dozens of others. Pity the Minister of Shipping to miss such a unique event!
Coincidentally, one of the "official" photographers was George Christakis who really felt more than touched, given his memorable book / photographic excellence on Greece's light-houses, being one of the themes in every turning of the pages in Theanos' book / album!
The above was a speedy write-up of my feelings during the event and managed to include same timely herein, in our daily market report, simply because it was within BST…
We wish you a nice evening and be on guard for any eventuality from Pirates and Terrorists looming in the background, wherever you are on Planet Ocean!
Uploaded 15:04 BST
Updated 23:58 BST