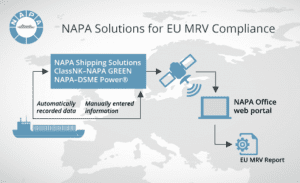 Existing users of NAPA Shipping Solutions, ClassNK-NAPA GREEN and NAPA-DSME Power® can achieve compliance with new MRV reporting requirements
Helsinki, Finland, August 16, 2017 – NAPA, a world leading maritime software, services and data analysis provider, has updated its performance monitoring and reporting systems to enable simple, straightforward compliance with EU Monitoring, Reporting and Verification (MRV) legislation. Users of NAPA Shipping Solutions, ClassNK-NAPA GREEN and NAPA-DSME Power® can easily generate MRV reports and include their performance monitoring software as their data collection method in the monitoring plan due on 31st August 2017.
From 1st January 2018, vessels larger than 5,000 GT calling at any EU and EFTA (Norway and Iceland) port must monitor, report and verify their CO2 emissions. This data must be collected on a voyage-by-voyage basis and submitted to the EU electronically via the EMSA portal on either an annual or voyage basis. Companies must present a plan for compliance with this legislation by 31st August 2017, which must contain the method of collecting the monitoring data. To support customers in achieving compliance easily, NAPA software includes reporting features for EU MRV across its portfolio of performance monitoring systems.
Users of NAPA Shipping Solutions, ClassNK-NAPA GREEN and NAPA-DSME Power® can generate automatically created annual or voyage-by-voyage MRV reports and export them as CSV files, requiring only a small process change by crew. Crew must update the performance monitoring system with changes of activity, like being in port or at anchor, known as phase information. With that information, the performance monitoring system automatically completes the rest of the process, collecting data on fuel consumption from main engines, auxiliary engines, gas turbines, boilers and inert gas generators, and reporting for each engine the fuel type and fuel consumption data (where fuel meters are in use). This data is then automatically shared with shore-based teams, ready for export from NAPA Office as a CSV file and submission to the EMSA portal.
Risto Kariranta, Director of Services, NAPA Shipping Solutions commented:
"Complying with EU MRV presents a significant challenge globally for ship owners and operators with vessels visiting European waters. Determining data collection methods before the end of August, and completing that data collection, compiling and submitting reports from next year could all take significant man hours. As leaders in supporting productivity in ship operations, as well as supporting efficiency-led CO2 reductions, we are pleased to offer our customers systems that make this process as easy as possible for vessels with performance monitoring systems installed.
"For each performance monitoring system NAPA supports, NAPA Shipping Solutions, ClassNK-NAPA GREEN and NAPA-DSME Power®, we have enabled simple, one-click report generation for MRV, enabling voyage-by-voyage or annual reporting to be completed as simply, and quickly as possible. This functionality has also been designed to meet reporting criteria and be compatible with the IMO's fuel consumption data collection system from 2019."
More information and an FAQ of how to create EU MRV reports with NAPA Shipping Solutions, ClassNK-NAPA GREEN and NAPA-DSME Power® is available online at www.napa.fi