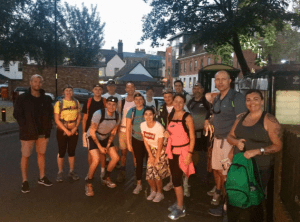 A group of staff from Britannia's managers, Tindall Riley, walked 56 miles of the Thames Footpath Route to raise money for the Marine Conservation Society with a mission to complete the walk within 24 hours.
13 staff set off from Cookham, Berkshire, at 6pm on 12th July and walked through the night, before being joined by 13 more colleagues at Hampton Court to finish the remaining 25 miles to London Bridge. Nearly all participants completed the challenge within the time limit, with one group of six doing the entire walk in under 20 hours.
The team raised £2,255 via its JustGiving page and with Tindall Riley pledging to match the amount, a total of £4,510 has been raised for this deserving charity which helps protect the planet's seas, shores and wildlife.
"I would like to congratulate my fellow colleagues who took part in this challenge and raised a huge sum of money for such an admirable cause," said Andrew Cutler, CEO Britannia.
"Cleaning up our oceans is vital work and is such an appropriate charity for our team to have chosen, particularly as the IMO is rightly focussing on regulations designed to minimise the maritime industry's negative impact on our oceans," he continued.
If you would like to find out more about the work that the Marine Conservation Society does, simply access the website: https://www.mcsuk.org/ and get involved as there are plenty of ways that volunteers can help.