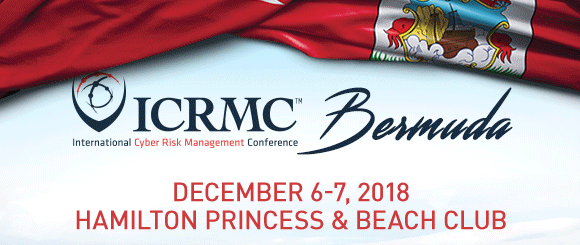 Plan your trip to Bermuda in December and join global cyber leaders from Deloitte, Aon, Willis Towers Watson, AXA XL, Moody's, AIG and more
Take your place among a set of world-class cyber leaders including CISOs from Silicon Valley and Wall Street, global cyber leaders from insurance and industry, along with regulators and technology trailblazers with an eye on cyber security.
It's time to register! Join your colleagues at ICRMC for this intimate gathering of risk professionals.
10% DISCOUNT courtesy of
Bermuda Business Development Agency
Register using code BDA10
World-class event, with world-class cyber leaders
Anthony Belfiore
SVP and CSO
Aon

Nick Galletto
Global and Canadian Cyber Risk Services Leader, Deloitte

Tracie Grella

Global Head of Cyber Risk Insurance

AIG

Mark Synnott
Managing Director and EVP
Willis Towers Watson

Derek Vadala
Global Head of Cyber Risk

Moody's Investors Service (MIS)

Noel Pearman
SVP, Cyber Product Line Leader
XL Bermuda Ltd.

Luke Dembosky
Partner, Debevoise & Plimptonand former Senior DOJ Cyber Official

Adam Segal
ICRMC Bermuda Emcee and Director of Cyberspace and Digital Policy Program
Council on Foreign Relations
ICRMC Bermuda Session Highlights:
Perspectives of leading CISOs on the front lines of cyber risk
What highly regarded reinsurance and ILS experts are doing to manage cyber CAT risk
The key pillars of cyber security and what AI brings to the table
Approaches to cyber pricing, U/W, modeling and reserving
Current cyber risk trends and how they impact services and offerings
Who should attend? Corporate risk managers, captive owners, corporate counsel, auditors, CISOs, CSOs, and CTOs, governance and claims professionals, insurers, reinsurers, insurance brokers and service providers.