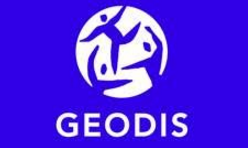 GEODIS 2018 ACTIVITY and CSR Report: Executive Summary
Ambition 2018: Strategic Plan
At the end of 2018 GEODIS brought its first five-year strategic plan, Ambition 2018 to a favorable close.
The plan had three main focuses
Turn-around
Building on solid foundations
Stepping up the profit.
Financial and non-financial indicators, as well as external assessments attest to satisfactory progress:
14,136 new hires
Recognized as a "Leader" by Gartner in its "Magic Quadrant" report
96% of the company's vehicles are Euro 5 and Euro 6, and are electric, hybrid or powered by natural gas
Gold level (overall grade of 70/100*) awarded in 2018 by EcoVadis.
Current Position
€8.2 billion annual turnover
41,000 employees globally
Mission: To help our customers overcome their logistical constraints
Vision:  To be the growth partner for our customers
Values:
Commitment
Innovation
Passion
Solidarity
Trust
Five Lines of Business (LoBs):
Freight Forwarding
Contract Logistics
Distribution & Express
Supply Chain Optimization
Road TransportWith its new regional
*Grade of 72/100 (+2 points) awarded in 2019
Regions:
WEMEA: Western Europe Middle East & Africa
NECE: North, East & Central Europe
APAC: Asia-Pacific
Americas: North & Latin America
France
With its new regional
With its new regional organization, coupled with the expertise of its Lines of Business, the Group aims at providing its customers with easy and full access to its unique portfolio of intercontinental transportation, customs clearance, road freight transportation, warehousing and last mile distribution
Ambition 2023
Aims:
Industry leadership
Profitable growth, combining organic growth, targeted acquisitions and innovation
Business excellence
Chief Executive Officer's Statement
The year 2018 has proven to be a good year for GEODIS, which has delivered strong financial results, as well as reaching critical targets on our on-going sustainability program.
Despite uncertainties of the macroeconomic context impacting our sector, such as uneven
global economic growth, rising oil prices, and the mounting of protectionist measures, GEODIS delivered increased sales and profits. This is thanks to our unique portfolio of transport and logistics services and our agility in helping clients overcome their logistical constraints.
Our commitment to the flawless execution of our promises, is critical for our clients when it comes to selecting a trusted business partner to distribute their products seamlessly throughout the world.
2018 was a particular year for GEODIS, as it marked the end of our "Ambition 2018" plan, launched five years ago. This plan has been successfully delivering improved financial performance year after year, reflected both in our organic growth rate, in line with the market, and in the tripling of our profit margin over the period. However, what we are proudest of at GEODIS, is that we achieved our financial objective, while keeping our promise to be a responsible company in the way we do business. This promise is key in our Corporate Social Responsibility (CSR) approach, totally embedded in everything we do, everywhere, and all times.
This report goes into great detail to transparently portray how we are measuring our company's impact on all of our stakeholders, and our commitment to improve it. Our CSR approach is an integral part of our promise to create value for all of our stakeholders. This is more valuable if it is sustainable and shared, based on our ingrained CSR philosophy and objectives, common to all concerned stakeholders.
This approach is embedded in our 7 Golden Rules, a mantra used by our employees to run the business on a daily basis. Three out of the seven Golden Rules pertain to CSR:
"Recruit, develop and retain quality people"
"Ensure the safety of our people everywhere and at any time"
"Be a good citizen"
This encompasses social, societal and environmental domains. In each of these domains, we set ambitious targets for ourselves against benchmarks. We measure results and seek higher levels in a continuous improvement objective. We believe that in the CSR sphere, no one should stand still and be content with their results.
In the yearly survey, 88% of our clients say that they are satisfied with our CSR approach. Even if there is always room for improvement, this score is a mark of strong recognition of our efforts to conduct business in a responsible manner. EcoVadis, the rating agency, has ranked our CSR program in the top 1% of all companies evaluated, and has awarded us "Gold" status.
As we look ahead, we foresee continued shifts and challenges in the economy and global trade. We plan on strengthened concentration, as well as the arrival of new entrants on the competitive battlefield. Meanwhile, the megatrends that are affecting our industry will generate both challenges and opportunities. To anticipate and respond to these trends, we have set forth our new "Ambition 2023" strategic plan. Our objectives are clear: to continue our progress as one of the world's leading logistics companies by creating sustainable shared value for our customers as their growth partner.
For our employees, this translates by being a responsible and caring employer, and for the rest of our stakeholders, by improving our overall performance, while caring for the world.
First, for our customers. We will continue to answer their ever-changing needs, reflecting the economic challenges ahead that impact their supply chains, requiring more agility than ever before. We aim at designing integrated logistics solutions for them, by optimizing any asset we operate or use, through enhanced automation, mechanization and robotization, and by increasing the use of big data to anticipate activity levels and reduce costs and waste in their supply chain.
Additional resources to support the business will be devoted to our Innovation/Engineering department, created in 2014. Significant investments will be made in digitalization, to support our transformation towards a more agile organization. Our global footprint will be expanded to follow clients where their developments take them, with a specific focus on Central Europe, North America and high-growth Asian countries. Second, for our employees. We are rich with expertise and many engaged employees. This needs to be preserved especially in light of the revolution ahead in logistics.
Any evolution at GEODIS will be made in the context of what we pride ourselves to be: a socially responsible company, aiming at leaving no one on the side-line of our business transformation. We plan to enhance the training and development efforts forour people, in order to adapt to new technologies, and the speed of transformation in our industry.
This report confirms that we remain focused on recruiting, developing, and retaining quality people. These are our key assets and absolute assurance that we deliver the service quality our clients expect.
Finally, we believe that everything we do for the prosperity of our business should be done
with the view of being, and remaining, a "good citizen". This is how we enter in environmental and societal domains. Our environmental goals remain unchanged. We have the ambition to reduce our CO2 footprint by 30% by 2030. This report shows that we are on the right track and demonstrates multiple measures and initiatives we follow to
further improve our environmental footprint. For the societal aspects, our regional or business management has a certain level of autonomy to engage with the local community on support programs. The closer the ownership initiative the more effective and sustainable the impact on society. You will find some great examples of solidarity work by our people in the report.
I will summarize by saying, with all my colleagues at GEODIS and thanks to the engagement of each and everyone, we are committed to creating sustainable shared value for all of our stakeholders.
Marie-Christine Lombard, Chief Executive Officer of GEODIS
Report Content
Part 1: Accelerating in a changing world:  An introduction in the context of megatrends.  These present five key challenges in the following areas:
Digitalization
Urbanization
Environment
Integrity
People
To succeed in today's fast-changing world, a company must identify, understand and anticipate the major trends affecting its environment. Often interconnected, these megatrends are reshaping markets and industries and need to be addressed in an increasingly agile way. In response to this evolution, GEODIS continues to reinvent itself, adapting its business model, its processes and tools as well as its organization to quickly evolving markets balances, balances, customers' needs and stakeholders' expectations.
Part 2: Creating value for our stakeholders: Partnering for improved performance worldwide
2013- 2023: A major change in scale: Against the backdrop of rapid changes
in markets, GEODIS has continued to accelerate its transformation, driving its sustainable growth through constantly reinventing itself and innovating.
Managing our customers' end-to-end supply chain
The way in which GEODIS organizes, operates & optimizes its customers' supply chains is graphically illustrated below
In-depth expertise by industry segment : In order to help its customers overcome their market-specific logistical constraints, GEODIS designs and implements transport and logistics solutions tailored to their industry: including retail, high tech, fast-moving consumer goods, automotive, industrial and aerospace and defence
Creating sustainable shared value: Leveraging from key resources and assets to optimize the clients' complete supply chain while always seeking business excellence to deliver clients benefits and create sustainable value for all our stakeholders.
41,000 employees – 96.5% on permanent contracts
37% female
9% female top executives
165,000 customers in 120 countries
Strong shareholding (100% SNCF, rated AA-/Aa3 by S&P/Moody's)
830 sites in 60 countries
9 million sqm of warehousing space, including 25 premium sites
Environmental footprint: Gazoil consumption = 62,813 million of liters; Electricity consumption = 235.2 million of KWh; Gas consumption = 138.1 million of KWh
A strong governance
Confirming our position as a global leader
A strategy focused around five main regions
CSR key performance indicators
Part 3: Centering our management system on business excellence.  A series of policy statements and case studies illustrating key drivers of GEODIS success.
Organizing, operating and orchestrating our customers' supply chain
Driving performance through innovation
Caring for our people
Living our commitment to the environment and the community