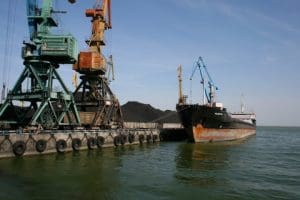 Throughput of Taganrog sea commercial port in H1 2019
In the first half of 2019, Taganrog Sea Commercial Port JSC (TagSCP, a company of UCL Holding) handled 554,000 tonnes of cargo, down 11%, year-on-year. The decrease should be attributed to business decline in foreign trade market dealing with the port's key types of cargo, coal and grain.
Transshipment of dry bulk cargo fell by 28% to 354,000 tonnes. Handling of grain dropped by 36% to 102,000 tonnes, petcoke – by 43% to 6,000 tonnes, ore – by 25% to 32,000 tonnes, coal – by 23% to 213,000 tonnes.
Handling of general cargo increased by 39% to 108,000 tonnes. Transshipment of ferrous metal grew by 26% to 56,500 tonnes, big-bags and boxes – by 56% to 51,500 tonnes.
The positive dynamics was also demonstrated by liquid bulk cargo: its volume surged by 84% to 91,000 tonnes.
Container throughput of TagSCP totaled 600 TEU (1,300 tonnes), down 42% as compared with the same period of the previous year.
In January-June, TagSCP handled 409,400 tonnes of export cargo and 51,600 of import cargo. In the reporting period, handling of coastal trade cargo totaled 93,000 tonnes. The share of exports and imports in the total throughput was as high as 74% and 9% respectively with domestic cargo accounting for 17%. All in all, Taganrog Sea Commercial Port handled 6,182 railcars and 145 vessels.
About the company:
Taganrog Sea Commercial Port JSC (TagSCP, part of UCL Port, a stevedoring division of the international transportation group UCL Holding) is a key stevedoring company operating at the Port of Taganrog. The company operates at the port's Berths No 1, 2, 3, 4, 5, 7 and 8. In 2018, Taganrog Sea Commercial Port handled 1.25 million tonnes of cargo.