Hot Port News from GAC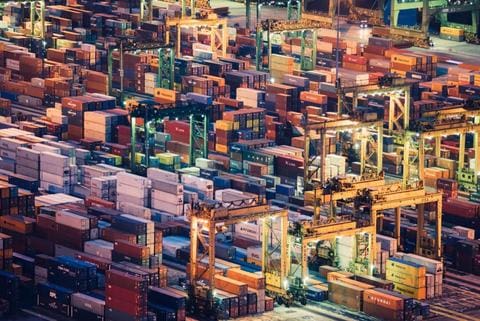 04-Dec-2020
CREW CHANGE OF FOREIGN NATIONALS
Andaman & Nicobar Islands, India
CYCLONE WEAKENED TO DEEP DEPRESSION
Tamil Nadu coast, India
INBOUND TRAFFIC SUSPENDED
Gibraltar
GUIDELINES FOR JOINING OF FOREIGN CREW
Chennai/Ennore, India
Crew change of foreign nationals
Friday, December 4, 2020, Andaman & Nicobar Islands, India
Foreign flag vessels arriving from foreign ports for carrying out crew change shall undergo 7 days quarantine period at anchorage/sea if the vessel intends to berth at any port in Andaman & Nicobar Islands from the date of departure from the last port of call.
All coastal run ship from any of the ports across India arriving at Andaman & Nicobar Islands are exempted from 14 days quarantine period.
However, any foreign flag vessels arriving in Andaman & Nicobar Islands from foreign ports, the foreign crews on board are not allowed to disembark unless there is a medical or any other emergency on board. Foreign flag vessels arriving from foreign ports only for the purpose of sign on/off for foreign crew can be carried out at anchorage only. Further, they have to quarantine for 7 days including the journey travelled from the last port subjected to certification by the Doctor/Master on board. Port Health officers will do thermal screening of the sign on/off crew at anchorage.
For the purpose of sign on/off of foreign crew of foreign flag vessels arriving from foreign port should remain at anchorage and does not berth may not undergo 7 days of quarantine period.
Agents will have to make arrangements from Institutional Quarantine at Port Blair for sign off crew. After 7 days sign on/off crews have to undergo Covid-19 test and they will be allowed to fly back to their hometown only if the Covid-19 test result comes negative.
(For further details and updates, as well as information about operations in India, contact GAC India at india@gac.com)
Source: Andaman & Nicobar Administration Trade Circular dated 2 December 2020
Cyclone weakened to deep depression
Friday, December 4, 2020, Tamil Nadu coast, India
Cyclone BUREVI has weakened into a Deep Depression and is expected to cross the Tamil Nadu coast.
The Deep Depression over Gulf of Mannar close to Ramanathapuram District coast remained practically stationary during past three hours and lay centered at 0530 hrs IST today (4 December) over Gulf of Mannar near Lat. 9.1°N and Long. 78.6°E close to Ramanathapuram District coast, about 40 km southwest of Ramanathapuram, 70 km west-southwest of Pamban and 160 km northeast of Kanyakumari.
The associated wind speed is about 55-65 gusting to 75 kmph. The deep depression is likely to move slowly west-south-westwards and cross Ramanathapuram and adjoining Thoothukudi districts during next six hours with wind speed of 50-60 gusting to 70 kmph. It is very likely to weaken further into a depression (wind speed 45-55 kmph gusting to 65 kmph) during next 12 hours.
At the ports of Chennai, Ennore and Katupalli, vessel movements are normal. Cargo operations partially affected due to incessant rains.
At Karaikal, inward movements are temporarily suspended due to bad weather and poor visibility. Cargo operations are partial due to incessant rains
Tuticorin vessel movements and cargo operations are normal. Local Cautionary Signal 6 hoisted.
For further details and updates, as well as information about operations in India, contact GAC India at india@gac.com
Inbound traffic suspended
Friday, December 4, 2020, Gibraltar
Due to a severe weather warning, Gibraltar Port Authority suspended all inbound traffic today (4 December).
Vessels at C/A were allowed to continue with operations. OPL A and B also continued. However, harbour craft moments are allowed until further notice.
Port operations were scheduled to resume from 1800 hours local time, with all waiting vessel called to proceed.
For information about operations in Gibraltar, contact GAC Gibraltar at agency.gibraltar@gac.com
Guidelines for joining of foreign crew
Friday, December 4, 2020, Chennai/Ennore, India
All Foreign nationals to have latest COVID-19 RT PCR Negative Test report (Test should have been taken within 96 hours of their arrival in India). If for any reasons the testing report is >96 hours and the crew come to Chennai after this period, he will be tested at Airport and he will have to be in Hotel Quarantine till the test result is reported. In such situations, as the COVID-19 test is done here in India and if it is Negative, it is valid and the crew can be cleared to join the ship subject to the strict follow up of the travel SOP and quarantine till Sign on or a repeat test if no records can be given which will be decided by the Port Health Officer.
The crew to be in strict home isolation for 14 days in their Home Country before their travel and to follow safe travel SOP till they are cleared to join the Vessel with self-monitoring record, COVID-19 test reports to be shared to RPS/Shipping Agent.
The crew to apply TN Government Travel e-Pass before planning for travel to join any ships in Chennai/ Ennore through any of the Airports in Tamil Nadu State Viz Chennai, Tiruchirappalli, Madurai, Coimbatore, Tuticorin. (Link for applying TN e-pass: https://tnepass.tnega.org/#/user/pass)
The crew will have to undergo the Screening procedure at Chennai or other International/Domestic Airports.
As the crew will be joining on ship, they will be under identified Hotel Quarantine facility only and follow the Travel SOP strictly from Airport. If they are cleared in Airport for 14 Days quarantine without testing requirement as per Point (a) above; being a ship crew they will be exempted from the 14 days quarantine if they undergo testing for Sign on purpose and will be allowed to join if the report is COVID-19 RT-PCR negative.
The crew have to follow strictly the crew changes SOP issued by us for 14 days on board the ship.
In case the crew COVID-19 test report is Positive, they have to be under the follow up of Tamilnadu State Health Department guidelines for further care and follow-up. The crew will be not allowed to sign on. The corresponding Sign Off crew may be done only if the safe-manning certificate allows the ship to do so.
To have back up plans in timeline, VISA for testing, quarantine period, sickness assistance if COVID-19 positive crew develop complications.
(For further details and updates, as well as information about operations in India, contact GAC India at india@gac.com)
Source: Port Health Organisation, Chennai