New ventures for Seascape Marine & Trading Ltd
by Iris D. Liaskoni, Marketing & Business Development, Seascape Marine & Trading Ltd
Seascape Marine & Trading Ltd. is delighted and proud to have been appointed as the exclusive representatives of Hanseo Marine Engineering Co. Ltd. for the Greek market. Hanseo has been one of the most prominent factories of marine pumps and their spare parts in Korea.
Established in 1998 in Busan, Hanseo has been dedicated to high quality products, always compliant with global standards. The brand has built an excellent reputation as a technological up-to-date manufacturer of marine pumps by investing in research & development to adapt in a fast-paced technological environment and innovate. Understanding that the core of success in marine equipment is customer satisfaction combined with well-timed product availability, Hanseo has been constantly focusing on excellent customer service, excellent responsiveness rate to queries, and efficient stock management.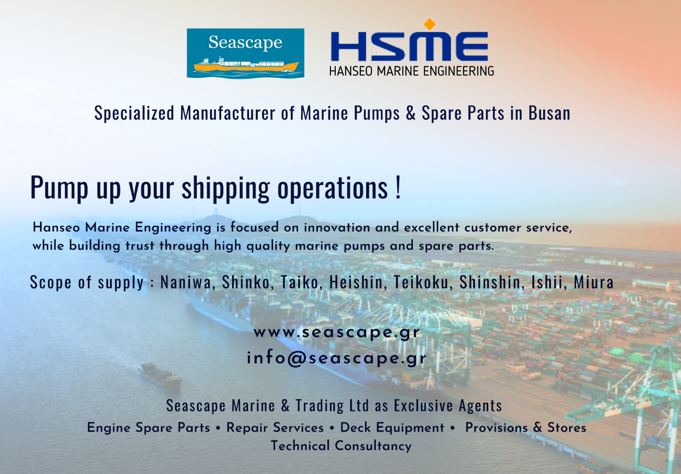 Deck Equipment – Fiber mooring and towing ropes
Seascape Marine & Trading Ltd. is pleased to have been appointed as the Exclusive Agent of Jiangsu Yasheng Rope Co. Ltd., a leading factory for mooring ropes in China, specialized in a wide range of fibre mooring and towing ropes.
All of the company's products are approved by ABS, DNV GL, LR, CCS, KR.
The company stands out from the competition not only thanks to their very competitive prices and excellent quality, but also their really fast delivery times, achieved through their fast production line. Their production is focused only on high grade mooring ropes, supplying them at any port of China, and exporting them worldwide.

Yasheng Rope can deliver their products directly on board, avoiding intermediaries' fees, thus achieving significant lower prices compared to the local ship chandlers.
The fine quality of Yasheng Rope products coming along with attractive prices, high professionalism of their staff, quick responses and fast delivery times, render Yasheng Rope a worth-a-try supplier in mooring ropes.
Seascape will be glad to provide you more details on the company's products and respond to your queries at glbsupplies@seascape.gr www.ys-rope.com/149.html
About Seascape
Seascape was established in 2005 in Piraeus by Dimitris Liaskonis, Founder and President of the company. The company represents and collaborates with leading factories and suppliers from Asia, Europe, USA, UAE and Latin America for the provision of vessel engine parts, deck equipment and repair services. Starting with two of the largest factories of ships engines in Japan –  as an authorized agent of Yanmar Engineering Co, and IHI Power Systems (ex. Diesel United), has now grown to represent reputable factories and trading houses, such as Hitachi Zosen Corporation, Makita Corporation, Hyundai Heavy Industries, STX Corporation, HSD Engine, Shaanxi Diesel Heavy Industry (SXD), Hudong Heavy Machinery (HHM), Anqing CSSC Diesel Engine. Seascape also provides repair services in collaboration with Yanmar Engineering Co, Hitachi Zosen Corporation, IHI Power Systems,anda highly reliable workshop in Singapore, Diethelm Marine Diesel Pte. In deck equipment supplies and services, Seacape is proud to represent MEP Deck Solutions, Sin Seng Huat (Qidong) Marine Equipment, Mordec International, and recently Yasheng Ropes Pte Ltd., as well as Genesis Solutions in Singapore in the field of provisions and stores.
During these 15 years, Seascape has been proud to supply more than 2.500 vessels per year in the field of engine spare parts, deck machinery & provisions, managed by more than 150 Greek ship-management companies that trust and honor the company with their long-lasting collaboration.