Humanitarian Intervention in the Long Nineteenth Century: Setting the Precedent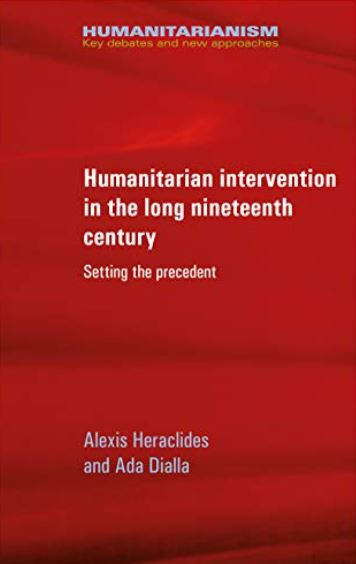 Alexis Heraclides and Ada Dialla, Humanitarian Intervention in the Long Nineteenth Century: Setting the Precedent (Manchester: Manchester University Press, 2015).
In December 2020 the above book was published in Greek by the publishing house Epikentro, under the title Humanitarian Intervention in the Nineteenth Century: From the Battle of Navarino to the American Intervention in Cuba.
In International Politics "humanitarian intervention" is the use of armed violence to save suffering innocent people in foreign countries. The conventional wisdom is that this is a post-1990 phenomenon, but in fact it has a long history which goes back to the 19th century, starting with the naval battle of Navarino in 1827 during the Greek War of Independence. This book is a comprehensive study of humanitarian intervention during the 19th century. After a presentation of today's ongoing debate for or against humanitarian intervention, it examines the 19th century precedent in two sections. In the theoretical section it starts with a geneology of the whole idea, which goes but to the Renaissance (then as "just war" against tyranny), followed by the 19th century's civilization-barbarity dichotomy with its biased Eurocentric gaze; then there is a detailed examination of international law (with the arguments of the advocates and opponents of humanitarian intervention which are similar to those of today), concluding with intervention in international political theory, from Immanuel Kant to John Stuart Mill. The practical section of the book is a detailed presentation and analysis of four of the best known instances of humanitarian during the 19th century: the Greek War of Independence (1821-1831), the massacres in Lebanon and Syria (1860-1861), the Bulgarian atrocities (1876-1878) and the more controversial US intervention against Spain during the Cuban Independence War.