Hot Port News from GAC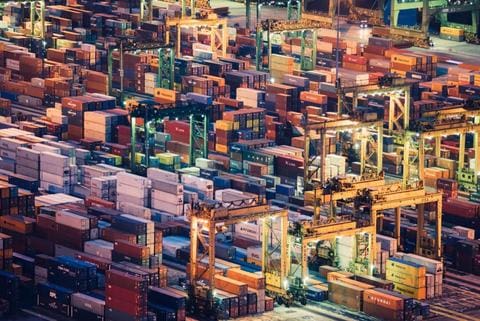 25-Jan-2021
TRIMMING OF UNDERWATER HIGH SPOTS SOUTH OF SHEK KWU CHAU
Hong Kong
UPDATED CREW CHANGE GUIDELINES
Philippines
RESUMPTION OF VESSEL BERTHING
Beira, Mozambique
MODIFICATION TO TRANSIT RESERVATION SYSTEM FOR NEOPANAMAX VESSELS
Panama Canal, Panama
Trimming of underwater high spots south of Shek Kwu Chau
Monday, January 25, 2021, Hong Kong
For approximately 6 months, trimming operations for underwater high spots will be carried out in the area bounded by straight lines joining the following co-ordinates (WGS 84 Datum) from (A) to (D):
(A) 22° 09.543'N 113° 59.637'E
(B) 22° 09.543'N 113° 59.928'E
(C) 22° 09.218'N 113° 59.928'E
(D) 22° 09.218'N 113° 59.637'E
The works will be carried out by one derrick lighter and one hopper barge. One tugboat and one work boat will provide assistance.
A working area of approximately 50 metres will be established around the lighter and barge. Yellow marker buoys fitted with yellow flashing lights will be laid to mark the positions of the anchors extending from the lighter and barge.
A silt curtain will be established within the works area. The silt curtain is a large piece of netting used to contain mud and sediments.
The hours of work will be from 0700 to 1900 hours. No works will be carried out on Sundays and public holidays. Vessels employed for the works will not stay in the works area outside the hours of work.
Vessels engaged in the operations will display signals as prescribed in international and local regulations.
Vessels navigating in the vicinity should proceed with caution, bearing in mind the changing depths in the works area.
(For information about operations in Hong Kong, contact GAC Hong Kong at shipping.hongkong@gac.com)
Source: Government of the Hong Kong SAR Marine Department Notice No.16/2021
Updated crew change guidelines
Monday, January 25, 2021, Philippines
A. Ships coming from or having rendered port of call/s from the below listed countries within 14 days immediately preceding arrival in the Philippines, are temporarily restricted from disembarking their foreign seafarers until 31 January 2021:
Australia
Austria
Brazil
Canada
The People's Republic of China, including Hong Kong, Special Administrative Region
Denmark
Finland
France
Germany
Hungary
Iceland
India
Ireland
Israel
Italy
Jamaica
Japan
Jordan
Lebanon
Luxembourg
Netherlands
Norway
Oman
Pakistan
Portugal
Singapore
South Africa
South Korea
Spain
Sweden
Switzerland
United Arab Emirates
United Kingdom
United States
Additional countries can be included in the above list as may be directed by the Office of the President.
B. Filipino and foreign seafarers aboard ship with no recorded port of calls in any of the countries listed in Item A within the last 14 days preceding arrival in the Philippines shall be allowed to disembark in any of the crew change hubs established by this Department, subject to existing health and safety protocols of the established One-Shop Shops (OSS) for Seafarers.
C. Filipino seafarers coming from countries mentioned in Item A, or who have been to the same within 14 days immediately preceding arrival in the Philippines, shall be tested upon arrival and shall be quarantined until the result of a subsequent test administered on the fifth day is released. After which, said seafarers who yield a negative result from both COVID-19 tests shall be endorsed to their local government units of destination who shall then strictly monitor the remainder of the fourteen-day quarantine through their respective Barangay Health Emergency Response Teams.
D. Filipino seafarers that fall under the classification of Item C are only allowed to disembark in Port of Manila and shall be transported by their shipping agents to the OWWA-designated quarantine facility via P2P, under strict monitoring of the Philippine Coast Guard (PCG).
E. All incoming seafarers from any country, if found positive, shall undergo whole genome sequencing conducted by the Department of Health (DOH), University of the Philippines (UP) Philippine Genome Center, and UP-National Institutes of Health, in addition to the prescribed testing and quarantine protocols.
F. Embarkation to ships bound to the countries mentioned in Item A shall be subject to the existing exit protocols of the Philippines as well as entry protocols of the respective countries…
(For further details and updates, as well as information about operations in the Philippines, contact GAC Philippines at philippines@gac.com)
Source: Extracts from Philippines Department of Transportation memorandum dated 23 January 2021
Resumption of vessel berthing
Monday, January 25, 2021, Beira, Mozambique
Planning for vessel berthing at the port of Beira is due to resume today (25 January) following the passage of Tropical Depression Eloise at the weekend.
Inspection/assessment has been completed and all 24 buoys are physically well positioned along the port access channel to the berth. The only issues are loose cables and fishing nets which are being removed.
(For information about operations in Mozambique, contact the GAC Dubai Hub Agency Centre at hub.ae@gac.com)
Source: Delagoa Shipping & Logistics, Mozambique – GAC network agent
Modification to Transit Reservation System for Neopanamax Vessels
Monday, January 25, 2021, Panama Canal, Panama
The Panama Canal Authority (ACP) announces the following changes to Advisory A-43-2020 regarding the assignment of slots that become available during Booking Period 3 for Neopanamax vessels.
Effective January 23, 2021, any slot that becomes available from 96 hours prior to the booking date to the closing of Period 3 for that particular date due to cancellations, changes in date, early transit of booked vessels, or any other reason, will be offered through an auction process; provided that all the slots for Neopanamax vessels, except the "conditioned slot" offered in the 2nd booking period, have been awarded.
The ACP will notify vessel agents, generally with one day advance notice, when there is a possibility of a slot becoming available to be auctioned.
(For information about operations in Panama, contact GAC Panama at operations.panama@gac.com)
Source: Panama Canal Authority (www.pancanal.com) Advisory to Shipping No.A-06-2021 dated 22 January 2021